To wear shorts perfectly, it is good if you have beautiful legs but even if you don't have the right body shape, still you can wear them in style. Fashion models who showcase shorts, also come with different body types. In today's post, I have decided to discuss the shorts that I love the most and that is the 'fit all body shape'.
1.High-waistline A-line Shorts▼
Yes, when it comes to shorts, the most common response that you will get to see is a passel of negative phrases like "My legs are too thick for it/not straight/waist too undefined/PP too big…cacan't wear it." But believe me, all these opinions are baseless. Once you try A-line shorts, you will witness an all-new world of fashion and style.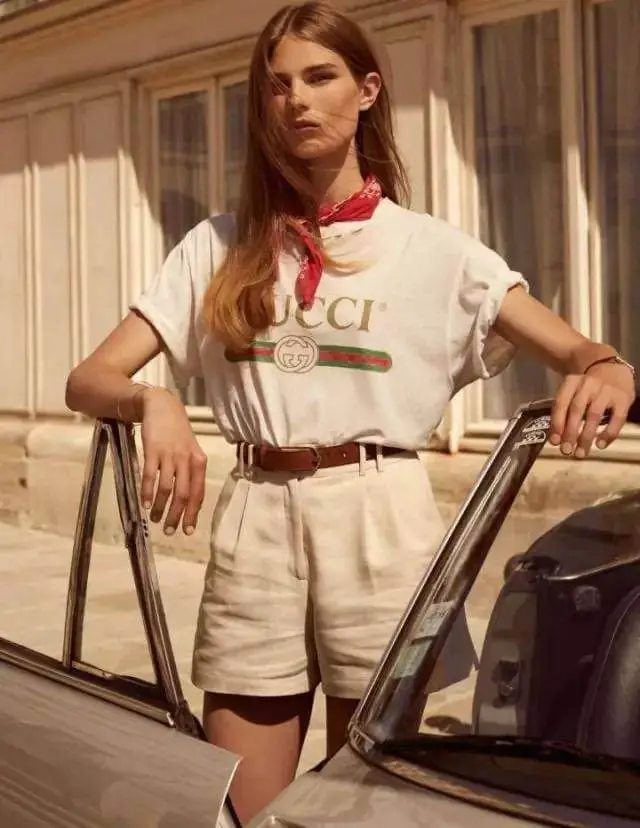 Tie Properly to Proportionate your Body
Where should you tie a high waist short? Somewhere around the navel. It can be high but not low. Tying at the right place helps in giving good proportion to your legs.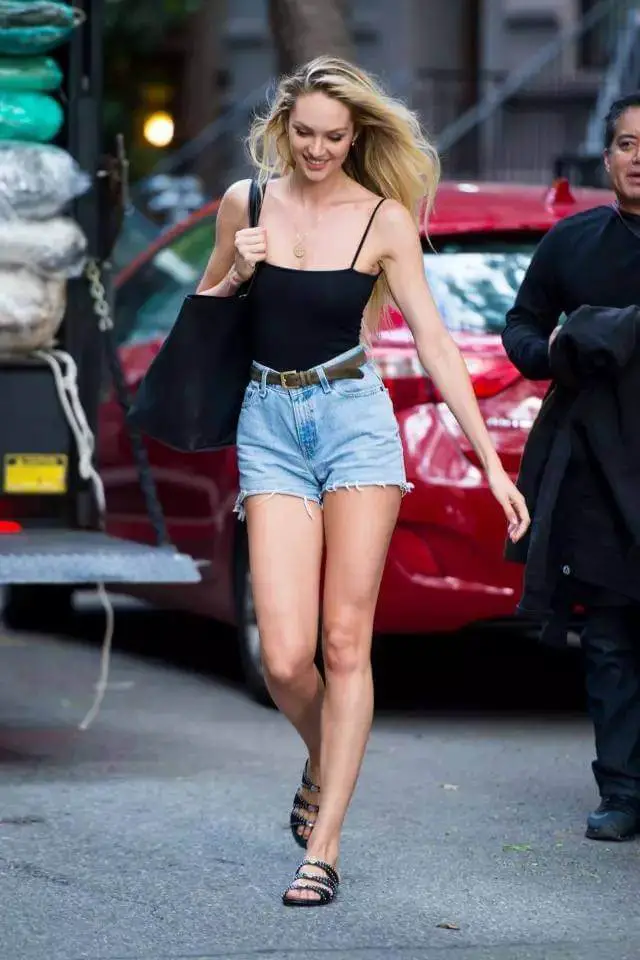 Many times, even supermodels cannot proportionate their bodies perfectly. Take the example of AA, check out the right image, it is obviously better than the other. Compared to regular shorts (as in left image), high-waisted shorts give better proportions with the illusion of elongated legs. ▼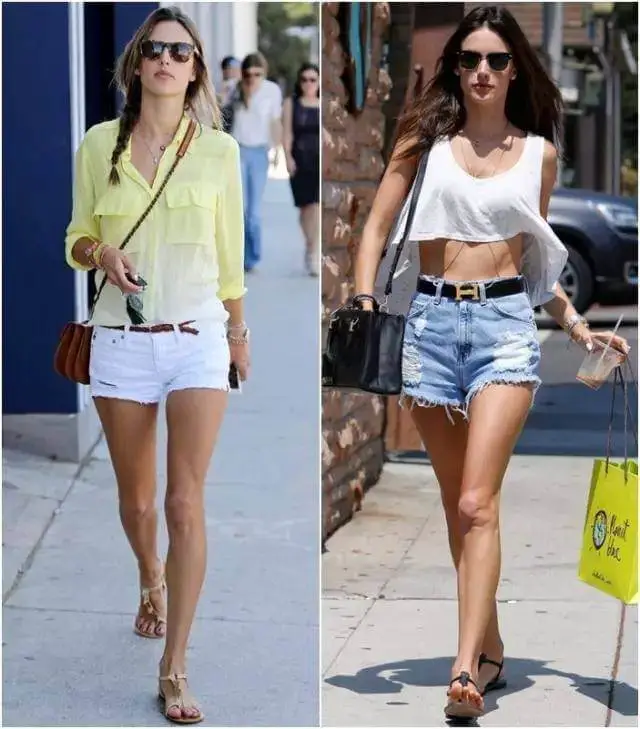 Secondly, high-waisted A-shorts are recommended for the girls with not so perfect legs. Why? The very reason why the A word short is recommended is because the A-shaped bottoms do not wrap the legs tightly and cover the thick legs perfectly.▼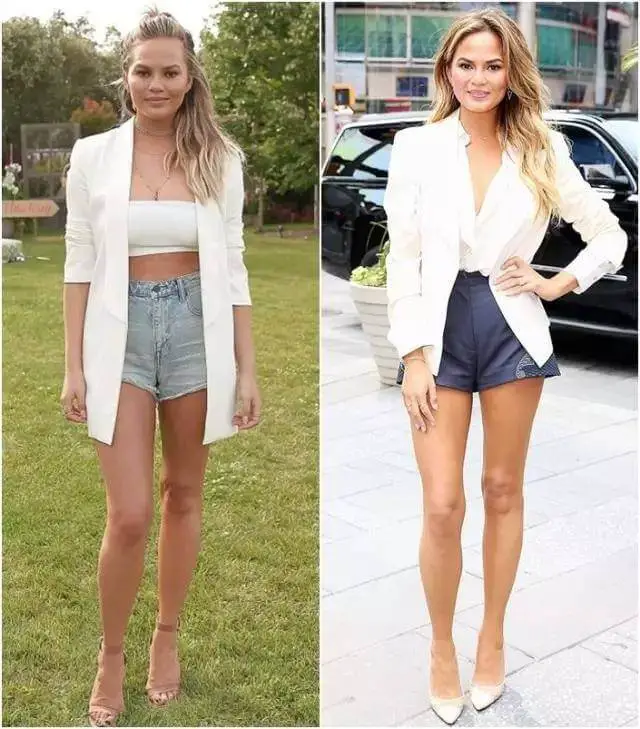 Similarly, the high-rise A-line shorts are generally loose and help in managing thick legs. ▼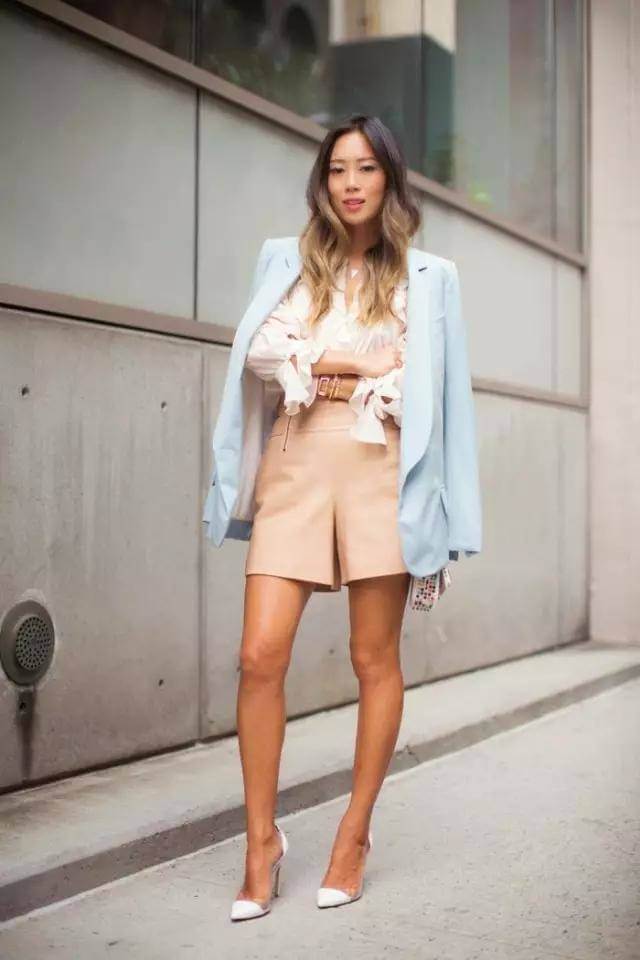 Again, this style gives a very good modification to the buttocks. Because of the high waistline, these shorts can perfectly show your buttocks shape from the back. Girls with heavy buttocks must give it a try.
Women with the pear-shaped body should also handpick A-shaped trouser skirts. I am not saying it; the principle has been set long before. ▼
What if you have flat buttocks? Girls with flat bums too can pick this style as it helps in giving the illusion of a curvy backside.
Look at the flat figure of Leandra Medine, the difference between wearing tight pencil pants and A-line shorts is quite visible. ▼
High-waist shorts are more versatile than other staples like hip skirts and super shorts. Not just this, you can wear high-waist shorts in multiple styles.
Moreover, shorts can be pulled off in both summer and autumn. Olivia wears high-rise A-line shorts almost whole year round. The only item that she adds in winter, is a pair of black socks. ▼
However, the style of high-waisted shorts can vary according to the material, length, and design. Some are more formal while some are casual. All wearing styles are not the same.
Shop The Look
---
Click the picture to buy
2.Suit Shorts
Talking about shorts, the normal conception is that shorts are very casual and laidback kind of staples. But you can't say that for high-rise A-line shorts.
For example, layer up your high-rise shorts (made up with crisp fabrics) with a matched suit jacket. This could be your office attire for workplaces where dress codes are not too strict. ▼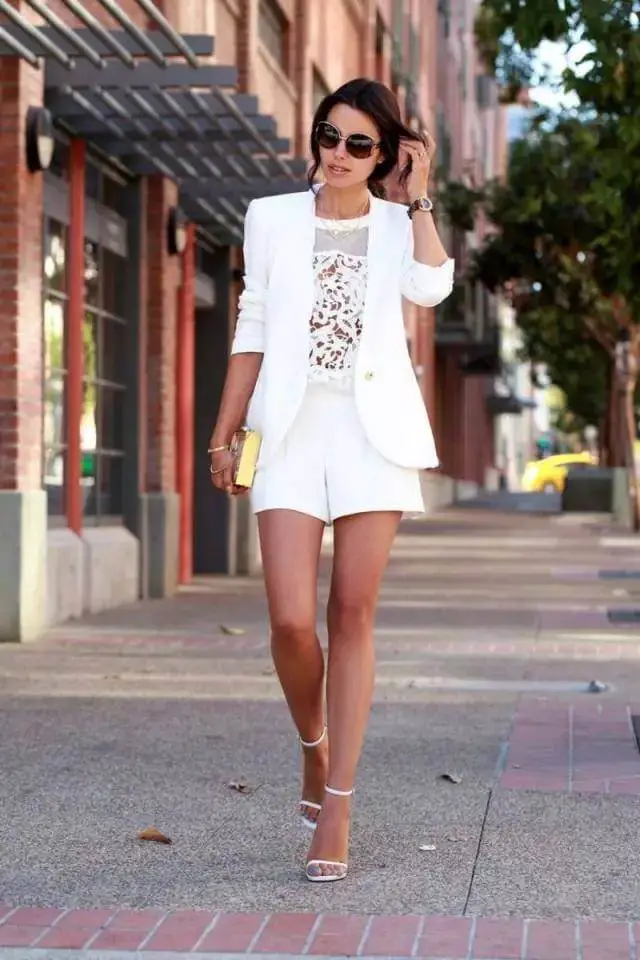 To have a flair of formality, the upper body can be dolled up with a collared shirt, and for bottom pick white shorts—white will be more stylish.▼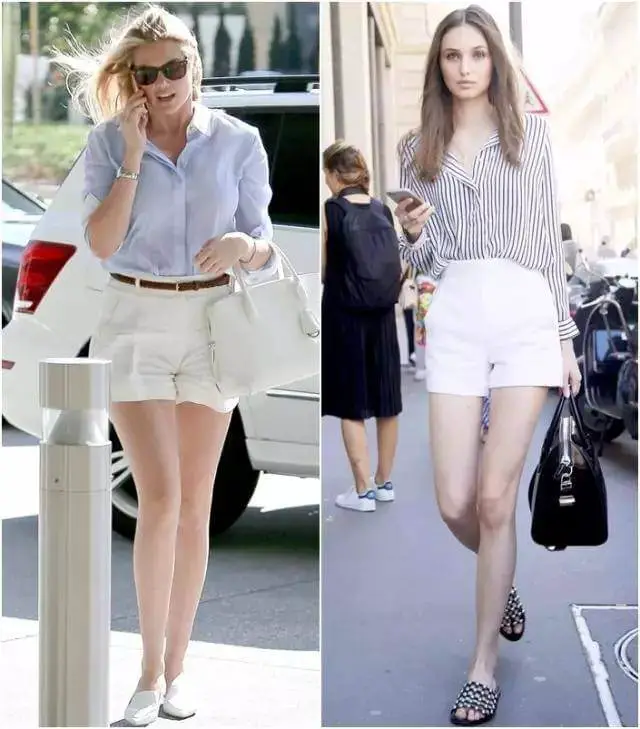 Striped shirt with high-waisted shorts creates a retro feel.▼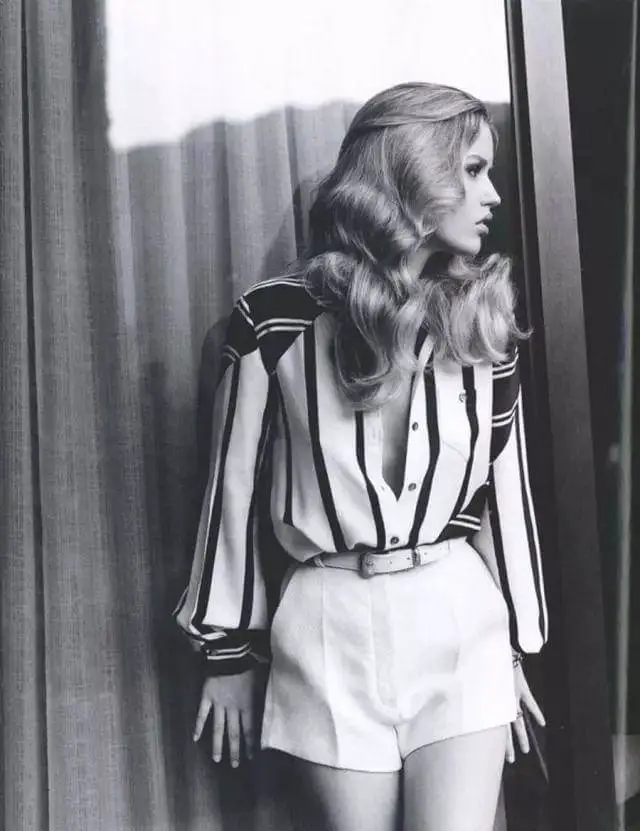 You can wear a small suit of the same color, more powerful ~▼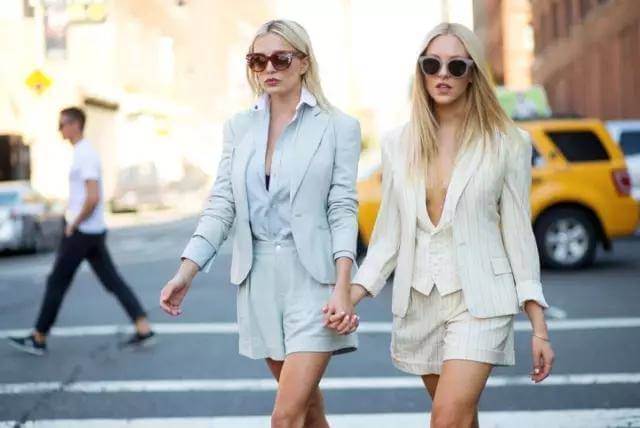 Even flat shoes would not make you look short, this is the power of high waist pants ~▼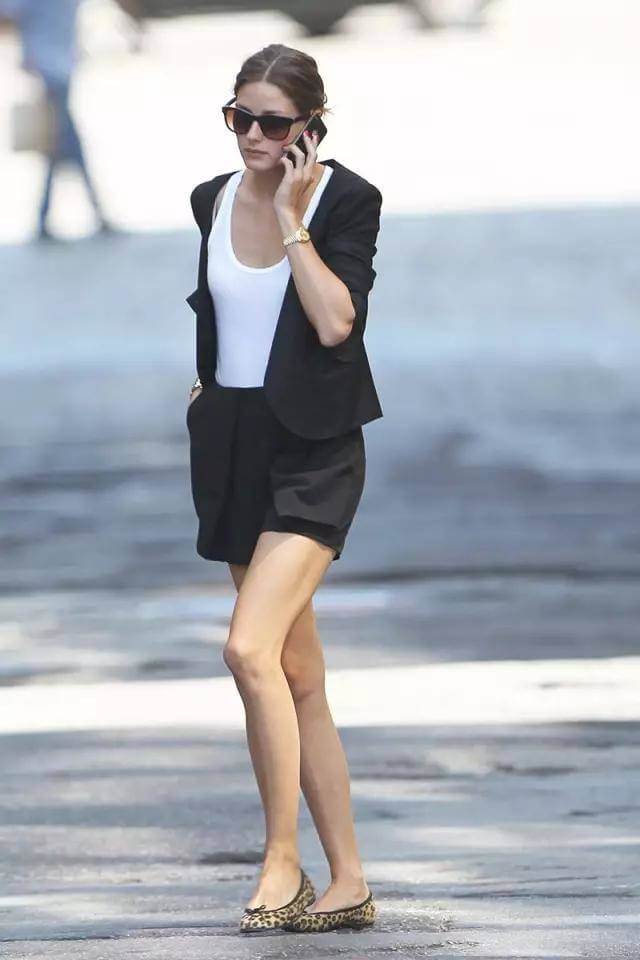 The suit shorts can be used to style small slings and vests when you are not at work. This pairing also looks adorable. Isn't it?▼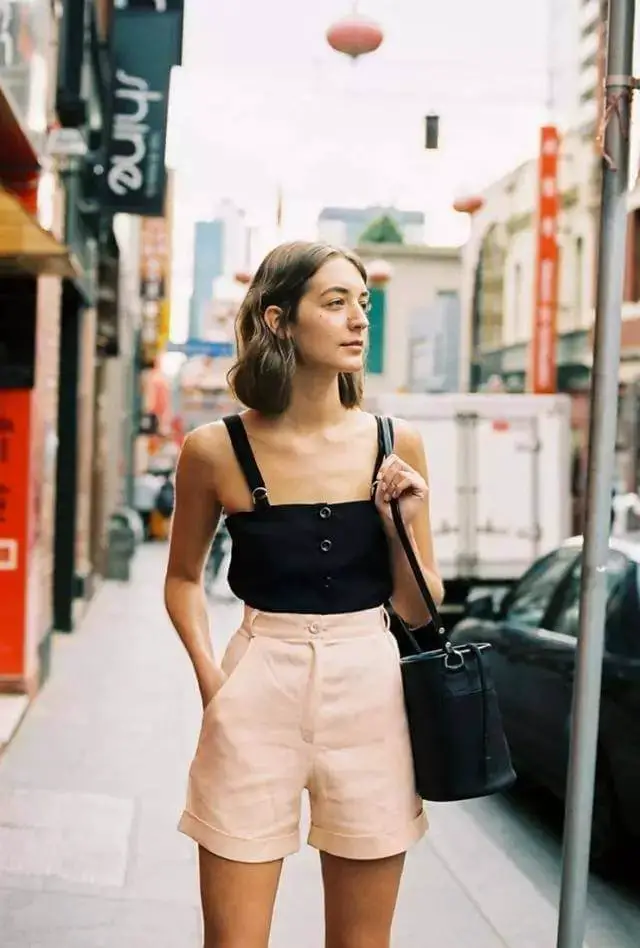 Shorts can be a good choice for business or office wear. You are advised to handpick shorts that are slightly longer than ordinary shorts—one hitting around the mid of thighs would be fine. For a more professional look, prefer stiffer fabrics.▼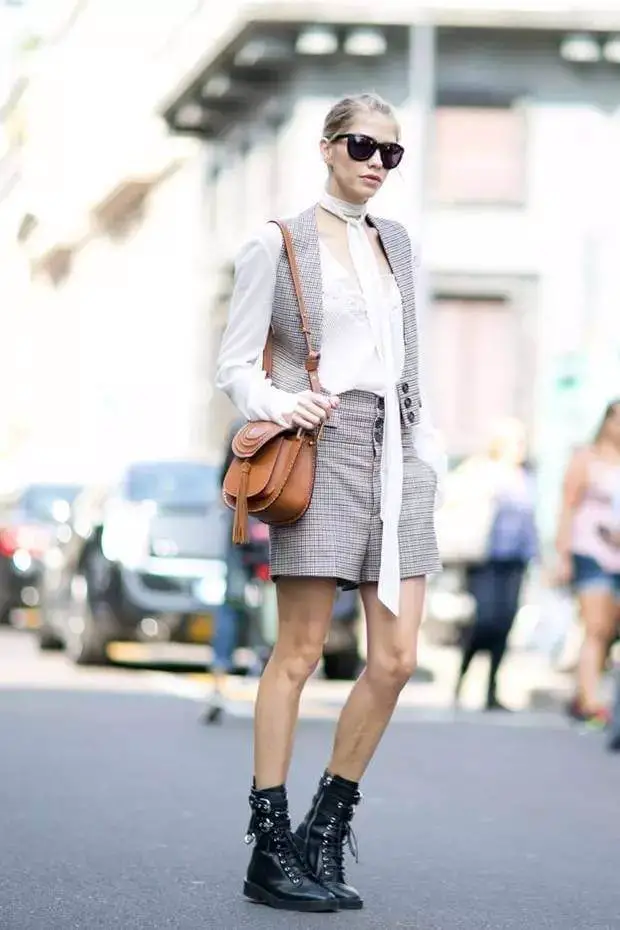 We don't say that the longer the pants, the better it is. Rather I would say the opposite. Avoid knee-length shorts as they would make you look short-heighted.▼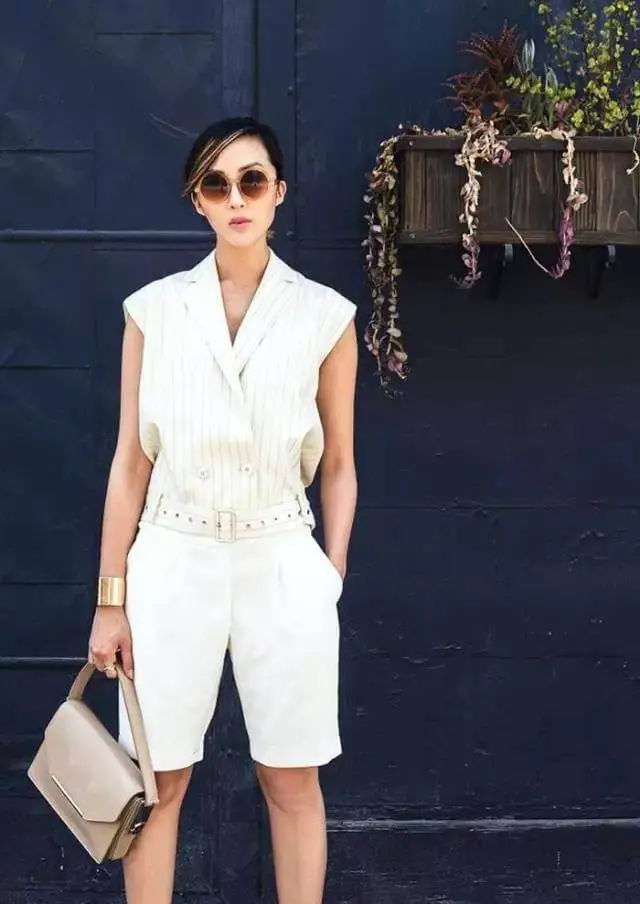 When it is about picking the right color scheme for your workplace, go with solid colors, especially black, white and other safe colors. If the dress code is not so strict, hues like pink, dark green and ginger offer a refreshing feel. For the top, white is very nice—white would help in balancing the overall look when paired with one bright color in the bottom.▼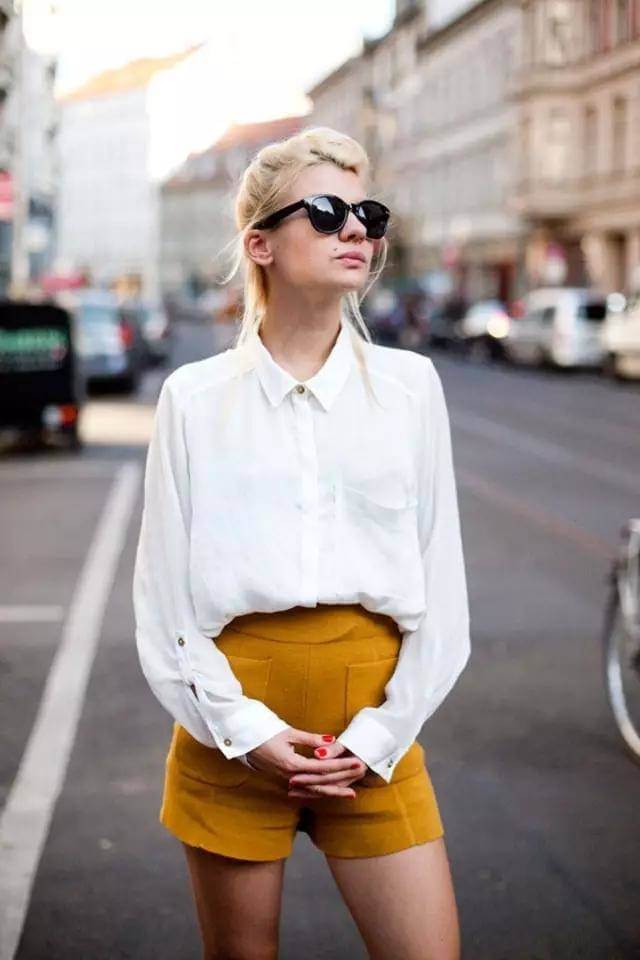 Anyhow, shorts should be selected carefully for places where dress code requirements are strictly observed.
Shop The Look
---
Click the picture to buy
3.Paper Bag Shorts
Many people say that high-waisted shorts are beautiful, but their biggest flaw is, they highlight the problem areas like belly and round drums weirdly. haha ~
But not all shorts have this problem. Paper Bags pants can easily cover the flesh on the stomach. ▼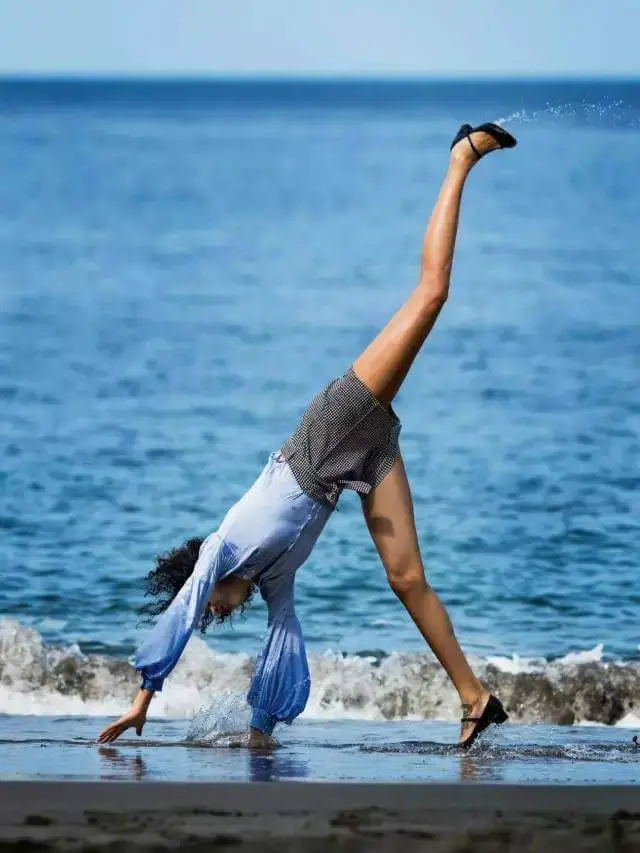 Paper bag pants are high-waisted wide-leg shorts. They come with a belt or a string to bind around the abdomen—just like a pocket bag. That is where it gets its name from。▼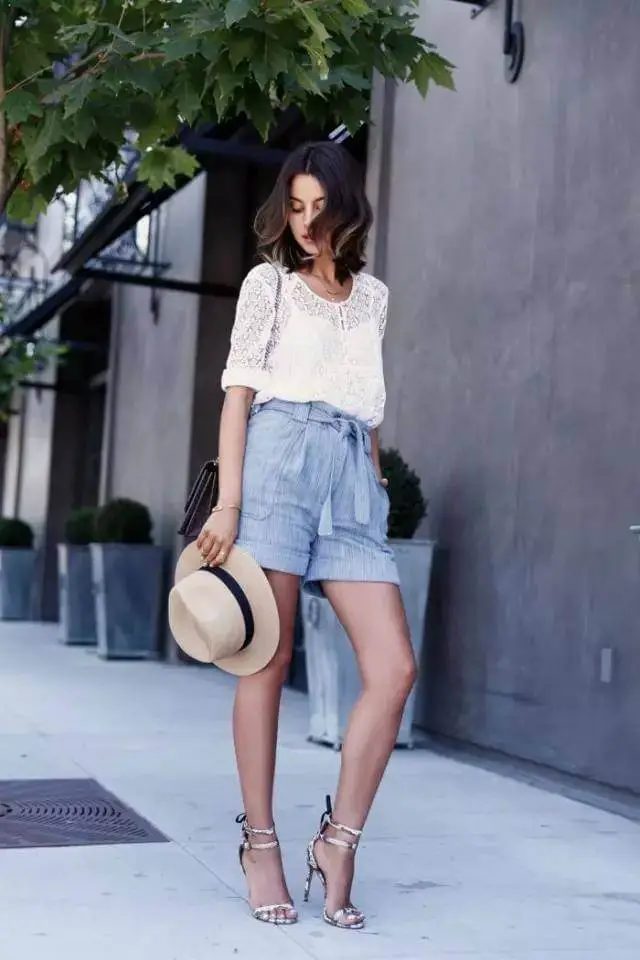 Paper bag trousers are designed to tie on the waist, but the part below the waistline remains fluffy and keeps the belly (problem area for many) hidden. This year it is quite trendy. See how Chiara flaunted her summer style with a paper bag short.▼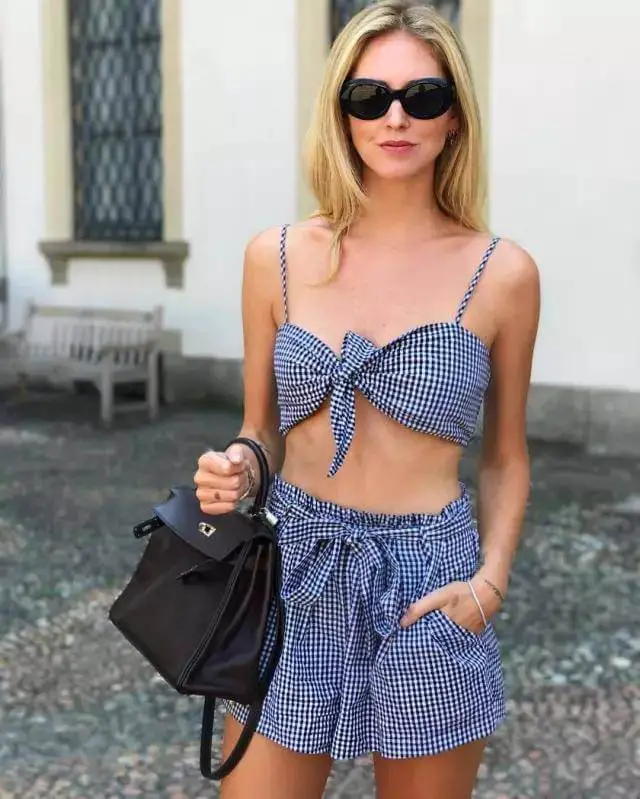 Because there is a string around the waistline, it will highlight the waist.▼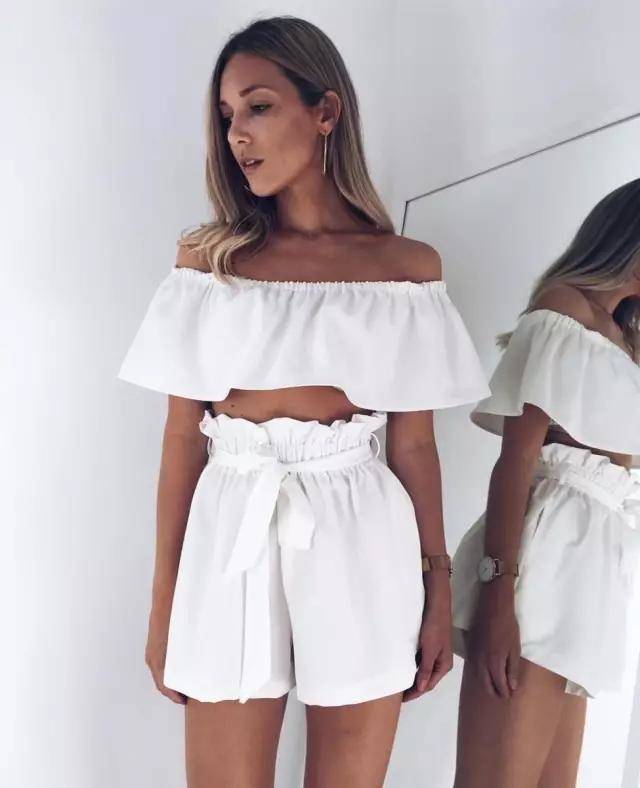 Paper bag trousers and suit shorts are two different items that are not so versatile in terms of pairing up a blouse. Their best match has always been the differently styled short and sassy blouses.▼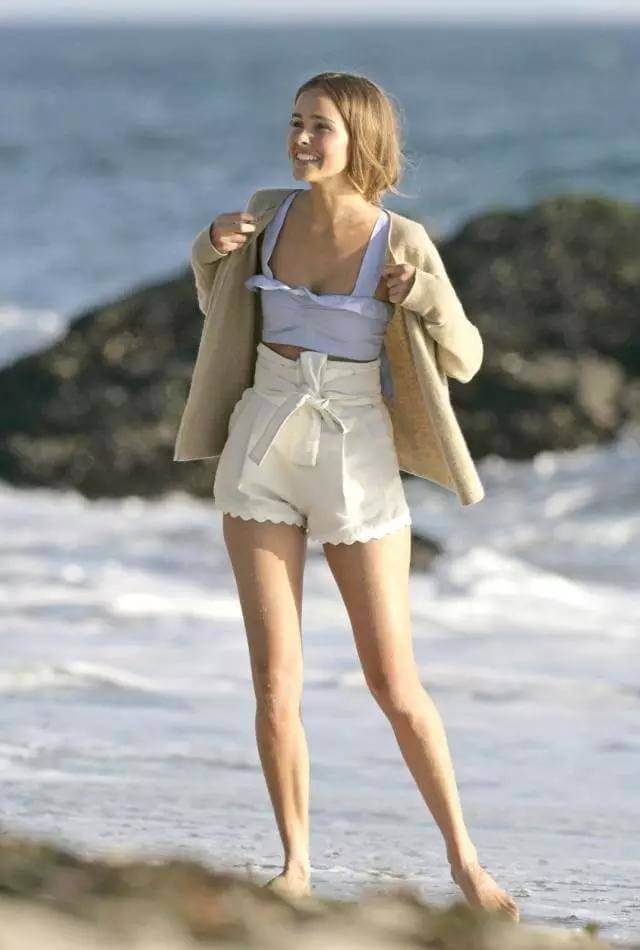 If you want your blouse to be of normal length, you are advised to keep it simple. For example, check out this very simple harness vest.▼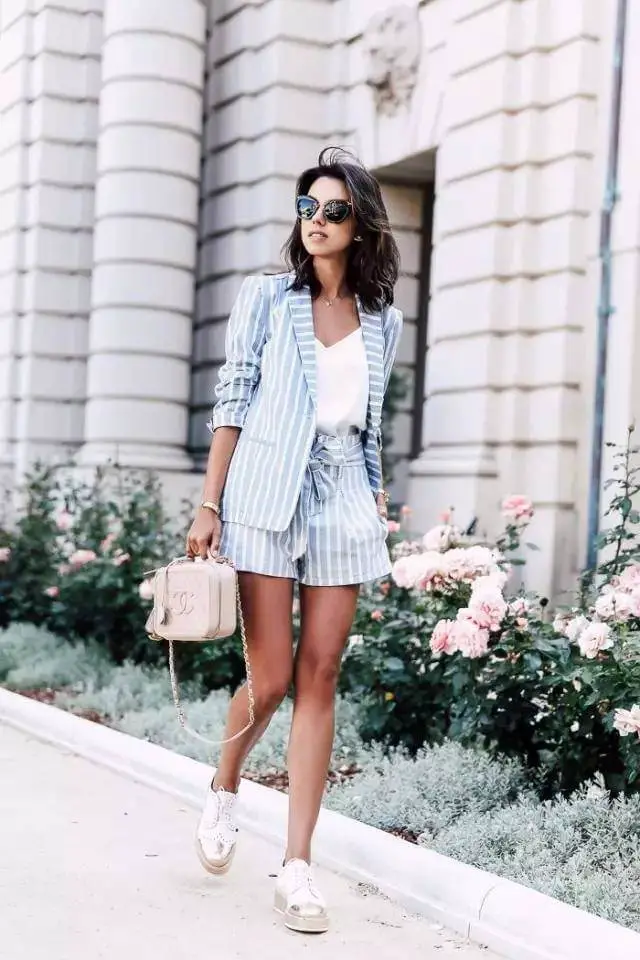 Paper bag pants with a simple white shirt can also be worn for office attire.▼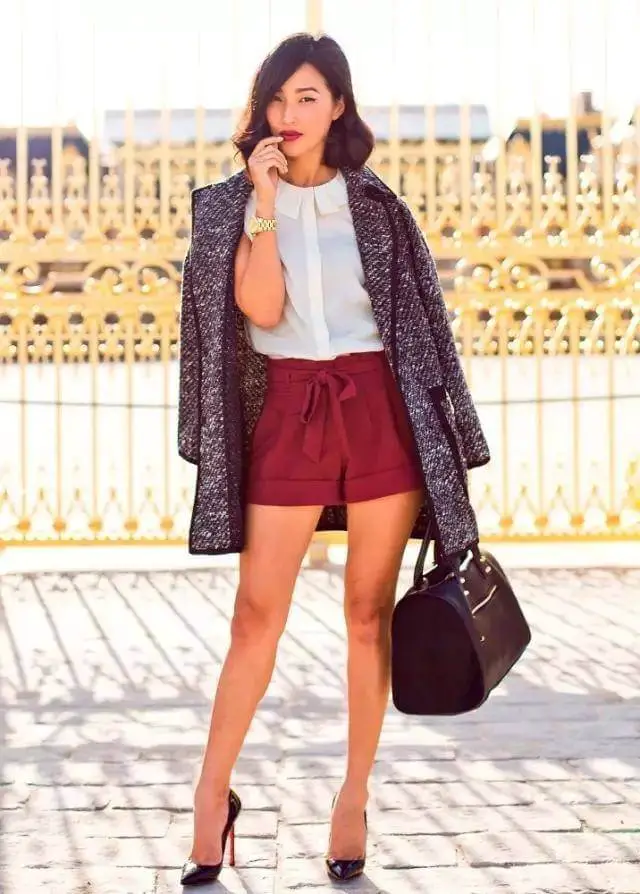 With blue and white striped shirt, it is quite easy to create a Parisian style ~▼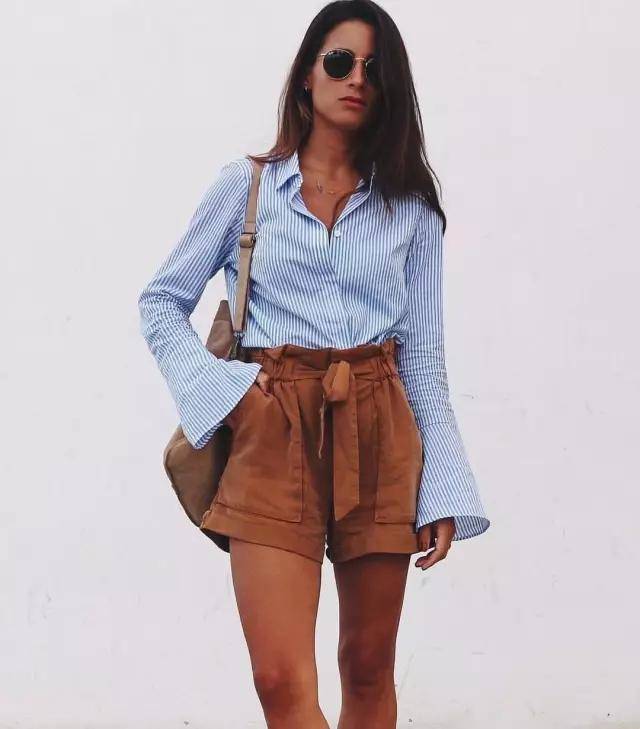 Tops with paper bag trousers must be tucked in, even if it is half like in the image below. It helps in elongating your look in spite of wearing flats. Feel it。▼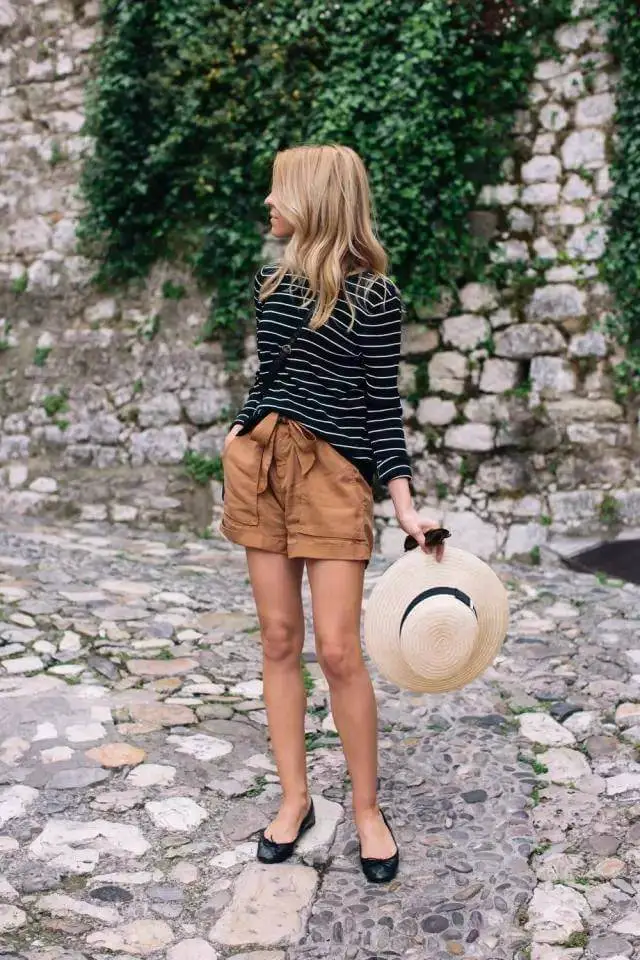 Do you want to look good in paper bag trousers? It is essential to pick the right material. Avoid flowy and flouncy fabrics—tough materials are better.▼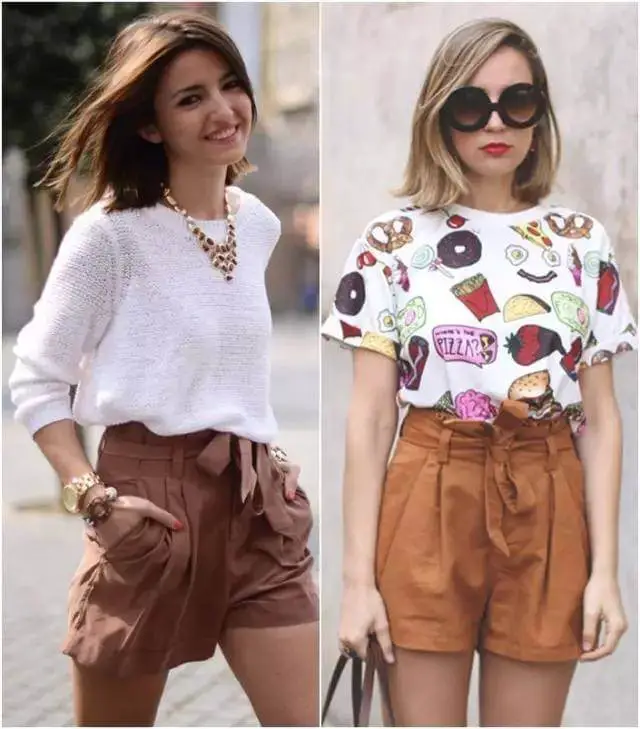 The choice of pants is also very important. It is best not to choose folds that will collapse. Choosing the right folds gives a more neat and tidy look.▼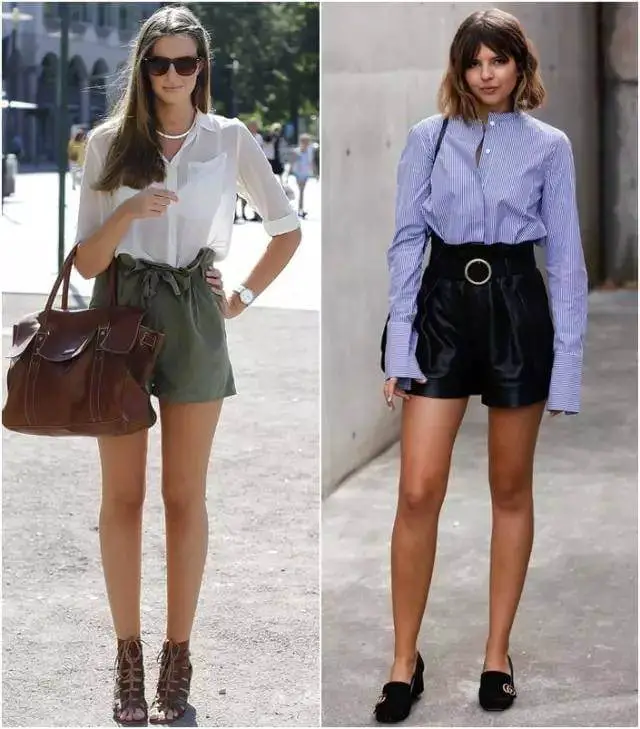 By the way, some paper-bag trousers are designed with belts. That is also quite suitable for pulling off at workplace. The belted look seems more defined and professional.▼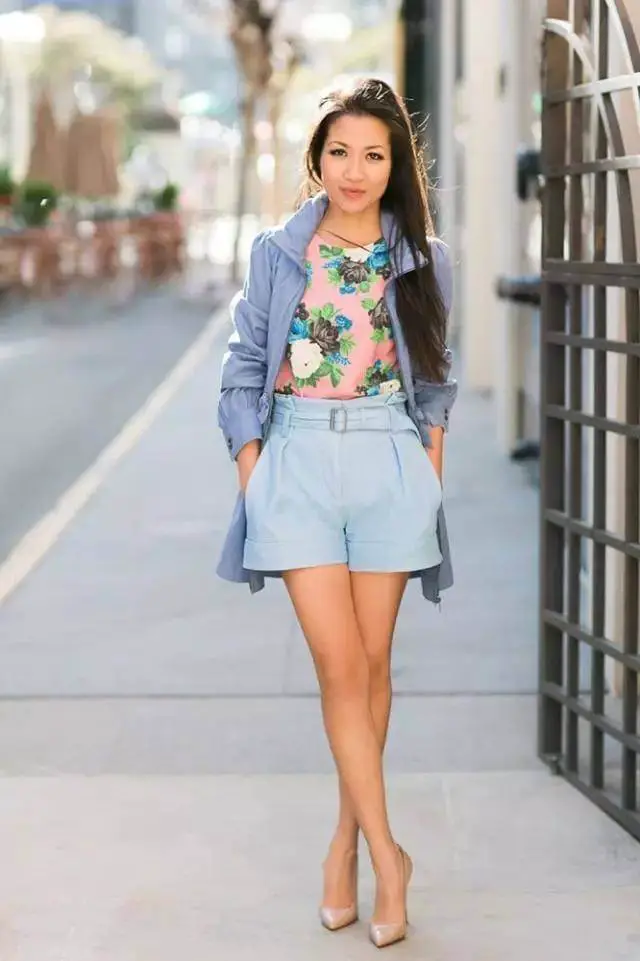 Shop The Look
---
Click the picture to buy
4.Denim Shorts
Many of our readers might be thinking, 'why is there no denim shorts on our list?'
In the world of shorts, denim shorts are the classiest of all. They do not just look super stylish but their wear-resistant quality makes them wearable for many seasons. However, most of them are so ultra-short and sexy that many conservative girls do not dare to wear them.▼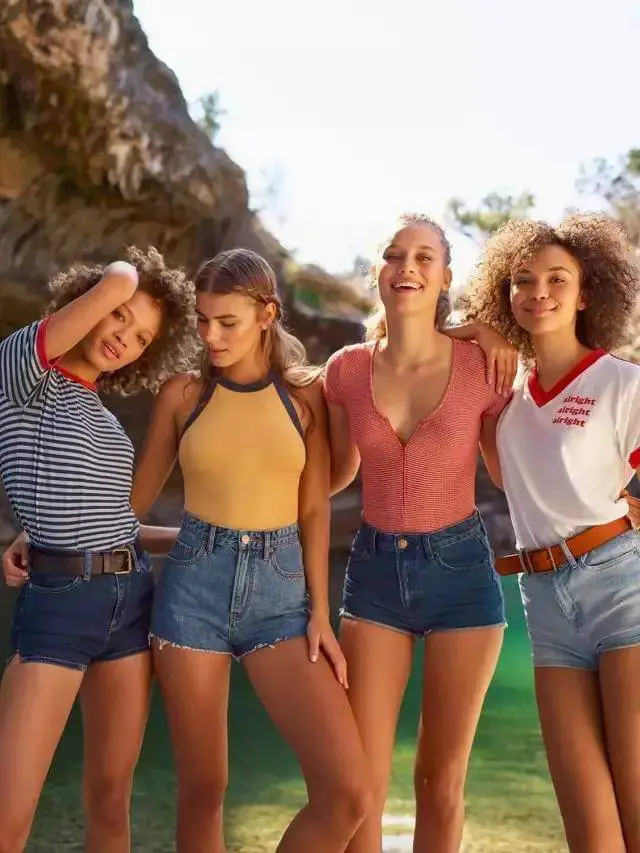 Most of the high-waist denim shorts are prepared for the girls with fine waistline and hips and yes, they are tight as well. Lastly, they do not modify the leg's shape.▼
High-waisted A-stitch denim shorts with a retro appeal are not so tricky, and they are very versatile as well. They look best with plain tops, especially in black and white.▼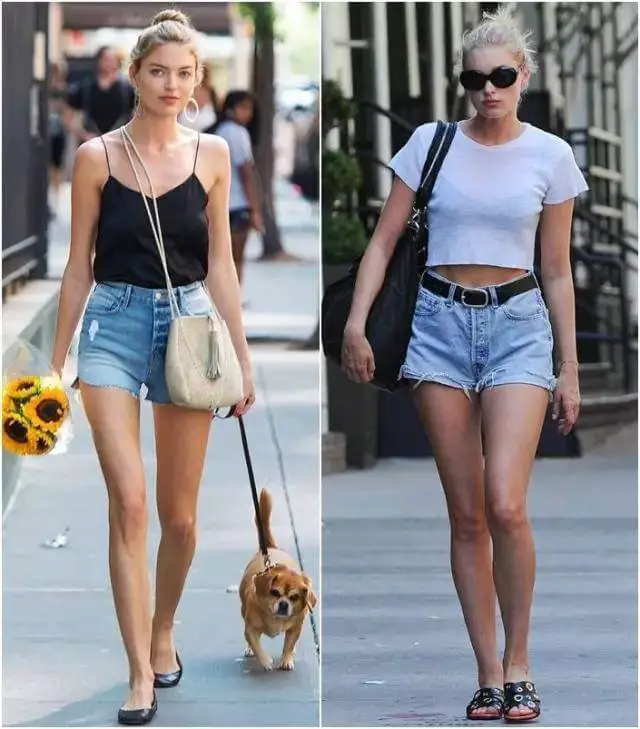 Denim with denim, if it is a long trouser, denim combo can be tough; but if you replace it with shorts, it becomes easier to carry, along with a sense of playful retro.▼
If you want to dress differently than others, you can try these embroidered denim shorts. They have been quite in vogue from the past two years. They look more refined and feminine, especially with a plain top.▼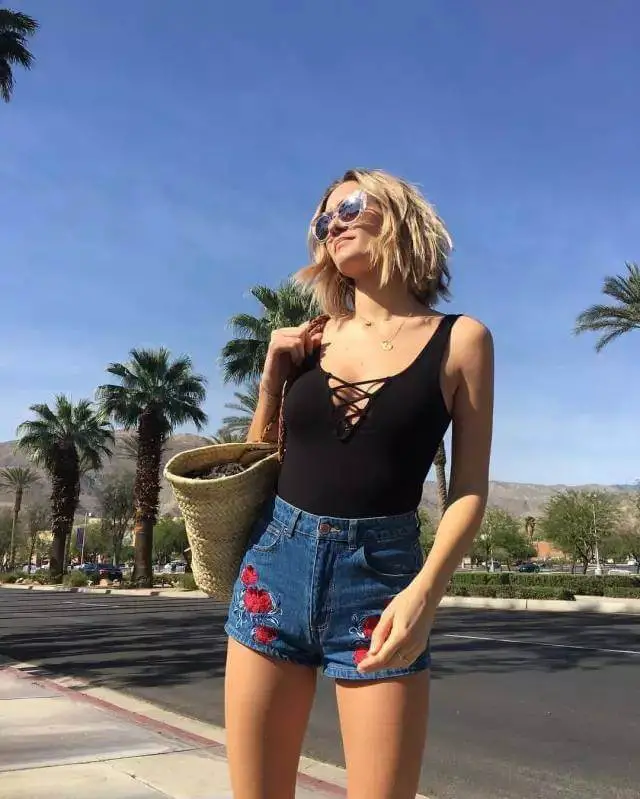 In summer, I also recommend white high-waist denim shorts. The reason to recommend is: it looks fresh and wild with summer feel ~▼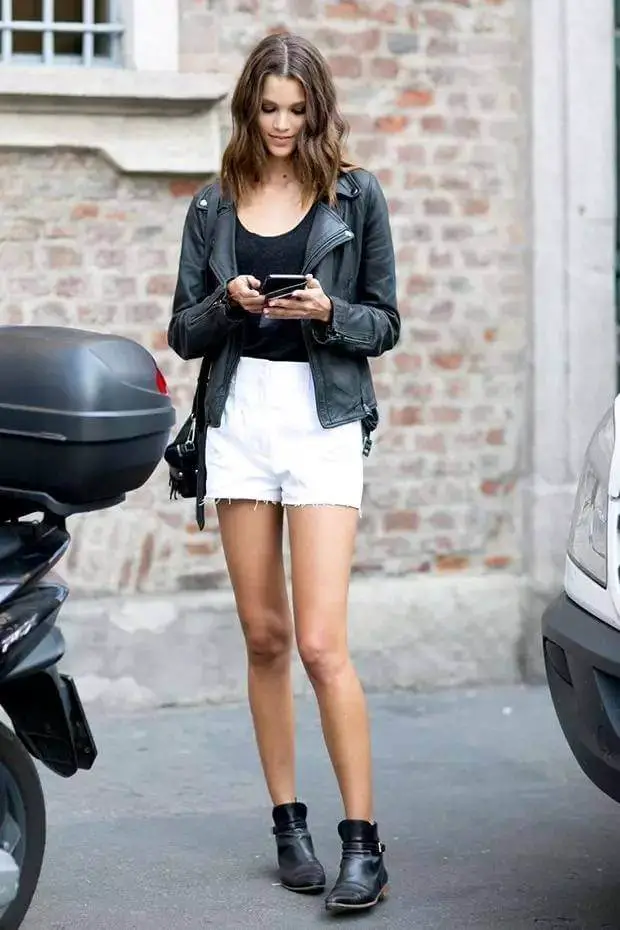 Chiara's favorite is white denim shorts. ▼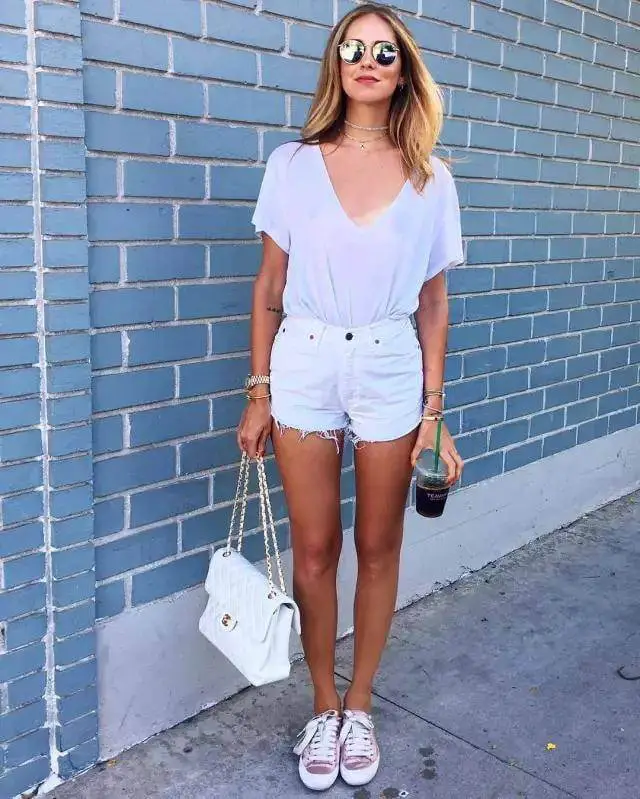 When I was on vacation, I was wearing a white with red top and I was looking exceptionally photogenic.▼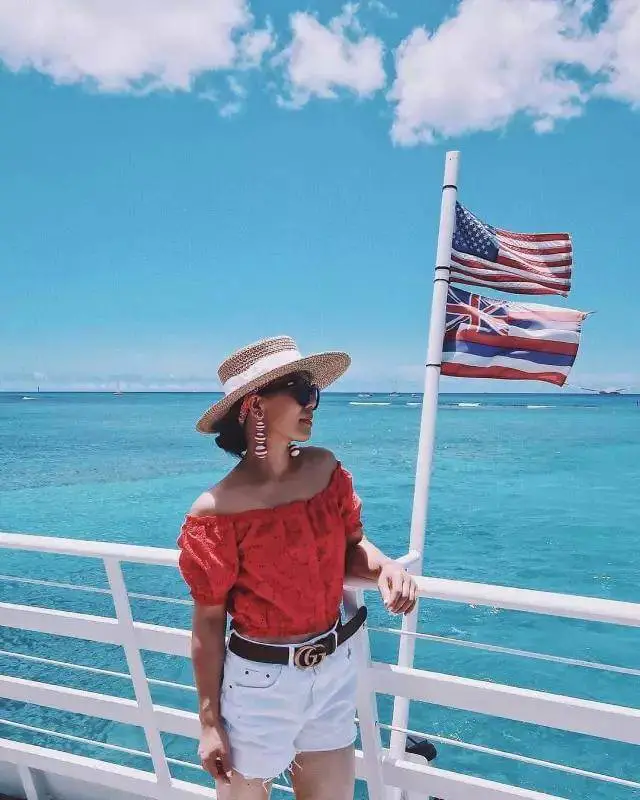 Shop The Look
---
Click the picture to buy
To sum up, there is a variety of shorts to go with. Remember to pick the ones with wide leg size—at least one finger wide, not just for fashion but also for comfort.