Summarizing the troubles of the busy women, the only point that I feel to be serious enough: with heavy bosoms, it is difficult to manage a perfect fashion look, particularly in summer. The following topic is aimed at unusually big breasts and normal big breasts. A wide waist, thick back, and a big belly… this is not what we call big breast, it's fat. All you can do about such issues is to lose weight.
Do's and Don'ts of Fashion for Busty Women
To do: Wear Slim clothes
Not to do: Wear clothes that are too loose or too tight
Many big-breasted girls try to hide their breasts by wearing loosely-fit clothes to cover their chests. This is something totally wrong. For big-breasted girls, too loose clothes can give a fatter and heavier look. Loose clothes do not hide heavy bosoms rather they make you look even heavier overall. Too tight clothes look too "fleshy." The best thing is to wear thin fabrics. The fabric should be tailored to suit the body curve. Don't go too loose or too tight. It's best to have a little elasticity with flattering curves.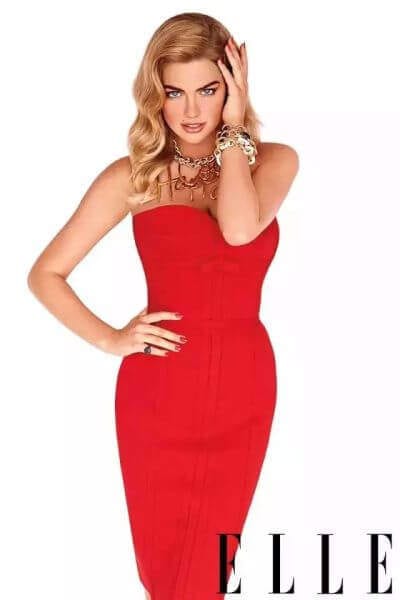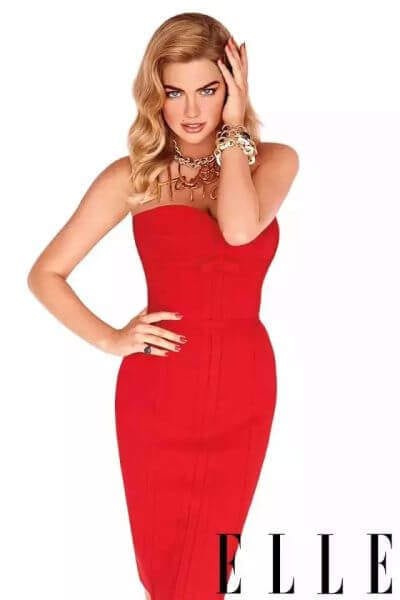 Max in the "Bankrupt Girl" is a typical big-breasted girl. Her red-carpet dresses have always been selected carefully to get the illusion of a stunning and balanced shape.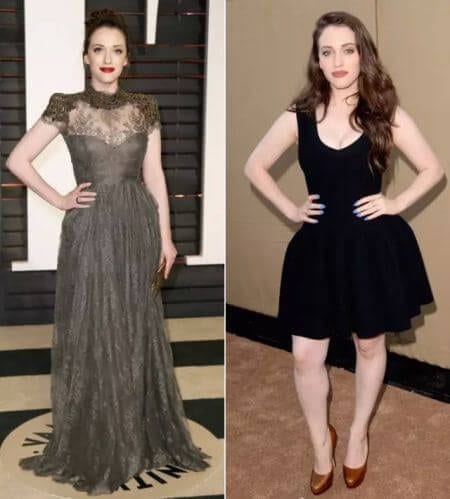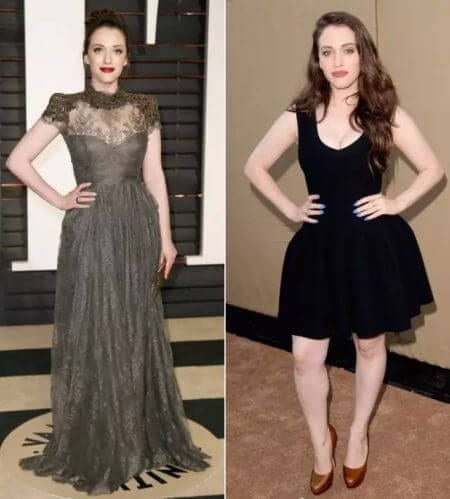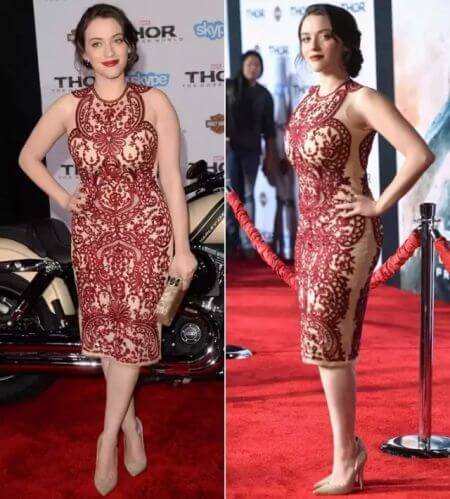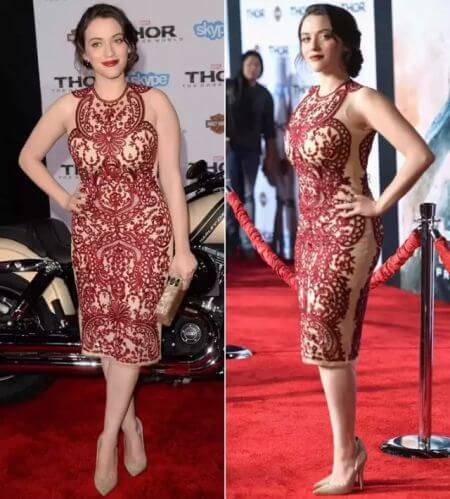 Overly loose and oversized clothes are not suitable for big breasts. This U.S. model Kate Upton is known as "shaking milk supermodel," She is a typical giant breasted lady. Contrarily, her legs are very thin. Her dark gray shirt with a light gray skirt itself is very nice, nude color pointed shoes also look good. However, this type of loose sweater gives a stronger look to the upper body.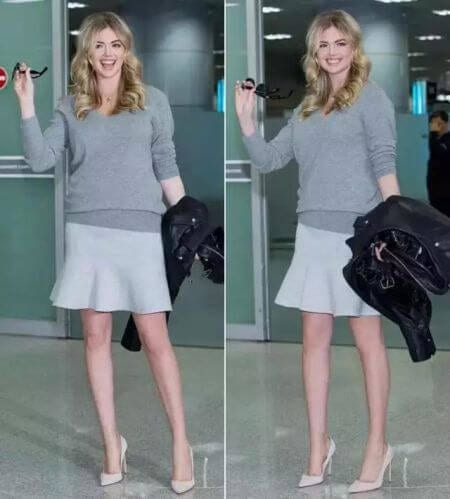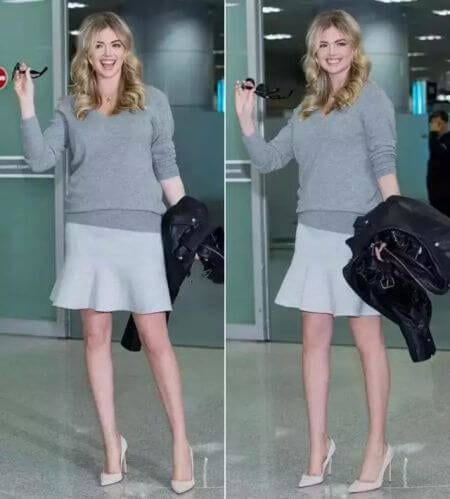 She also likes to wear this loose sweater, but it does not look fit on her and easily gives a mature look.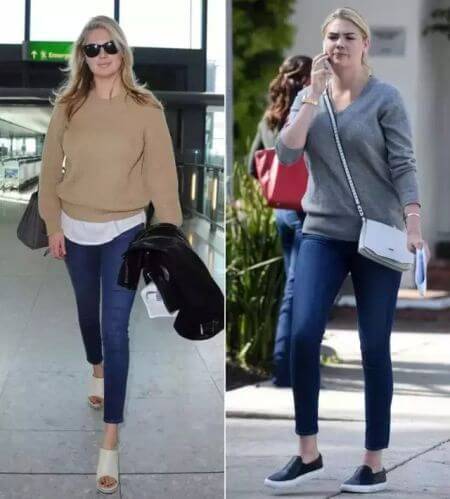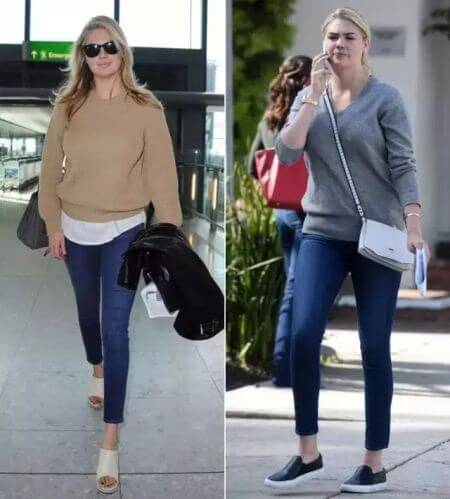 Blake Lively in Gossip Girl is also a famous big-breasted lady. She utilizes her good shape, her breasts and hips to flaunt her fashion sense. We have barely seen her wearing the wrong clothes. However, this loose green blouse is much like a piece taken from her mother's closet, but fortunately, her long legs have balanced the look.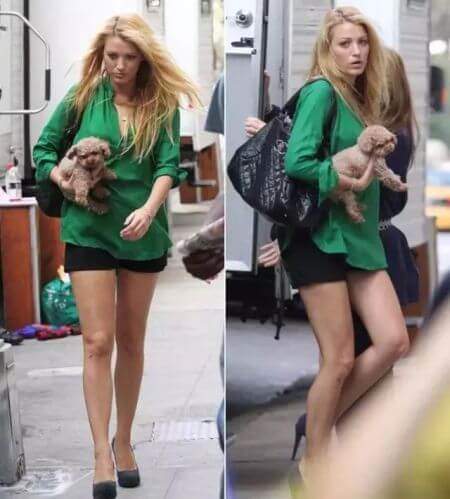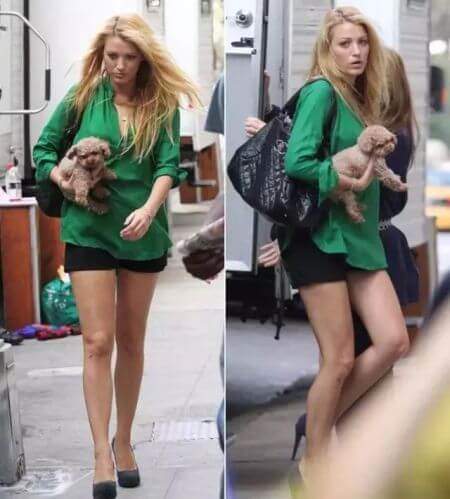 She also wore this extra-large and oversized sweater; every single piece is beautiful but wearing it on her gives the illusion of pregnancy.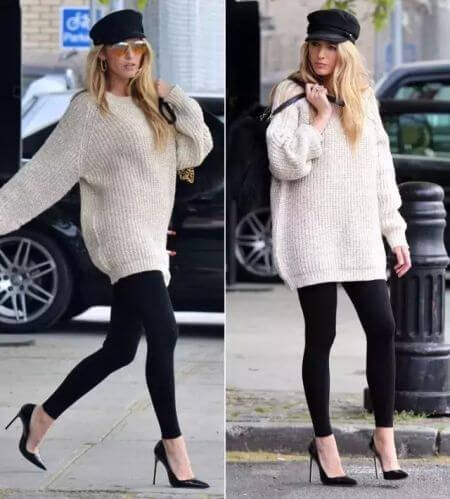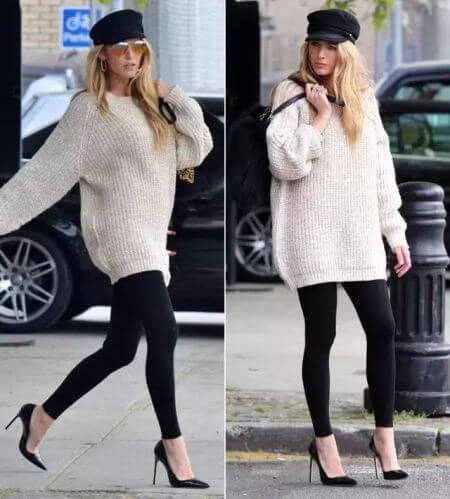 Clothes that are tightly wrapped around the body, are also not suitable for big breasted girls. Kardashian occasionally wears this type of clothing, exposing her exaggerated hourglass figure. And she looks like a mountain of meat coming towards us.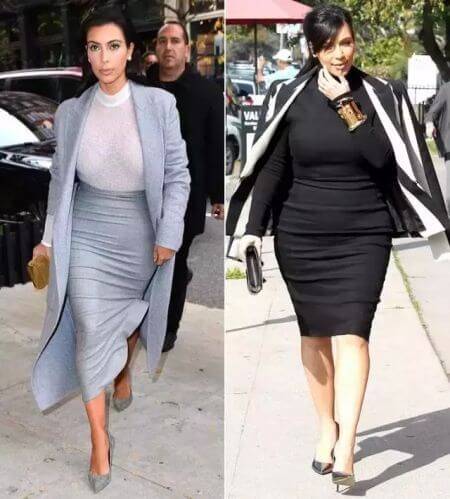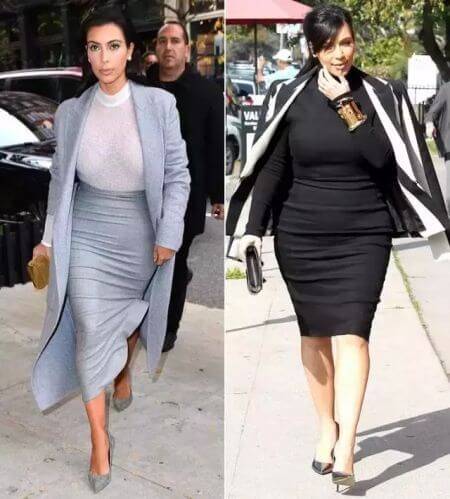 To do: Highlight the Waist
Not to do: Wear a doll dress or high-waist skirt (pants)
This is actually connected to the first point that is why it is important to understand it. To weaken the sense of width caused by large busts, it is good to highlight the waistline. Especially in the summer, clothes with accentuated waistline may help in making the upper body look more slender and exquisite.
Check out this short-sleeved waist dress with lower half in A-pendulum design. It highlights the waistline. If you too have such slender thighs and legs, they must be exposed.
In addition to the dress, even if you wear a half skirt, remember to tuck in your T-shirt or shirt to show off your waist.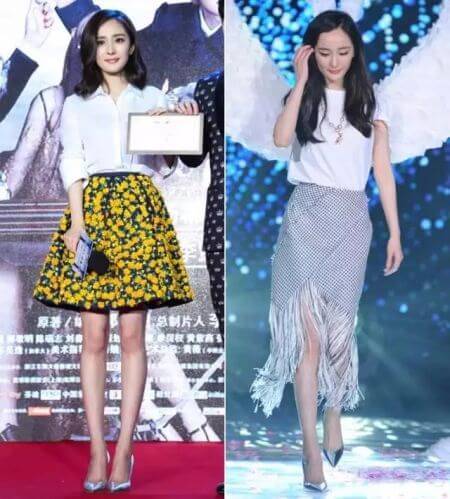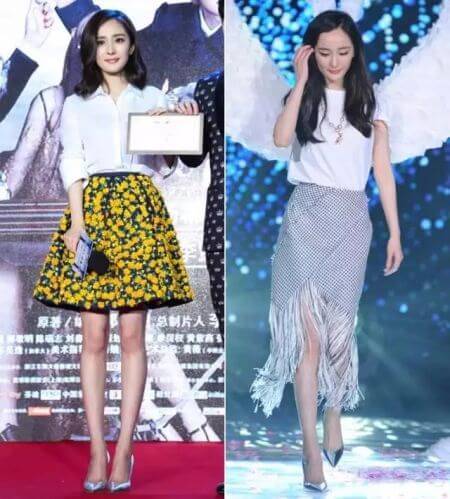 Waist coveralls are also suitable for big breasts.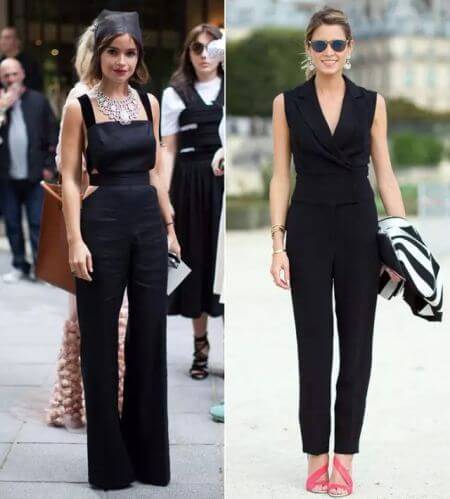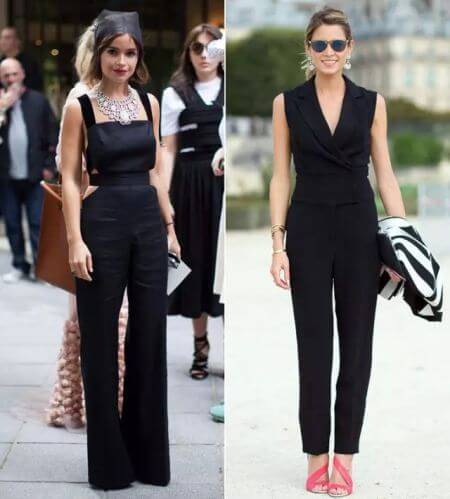 This year's popular bib pants must also be tried.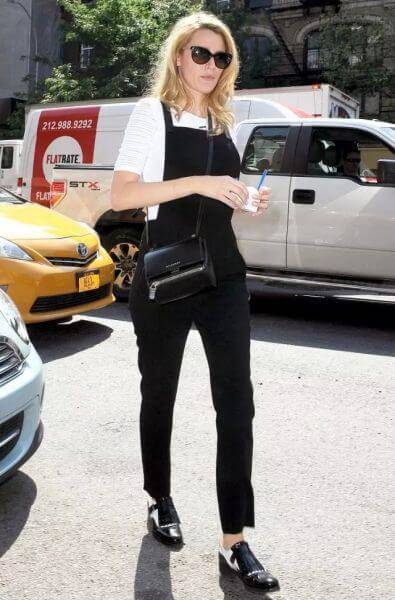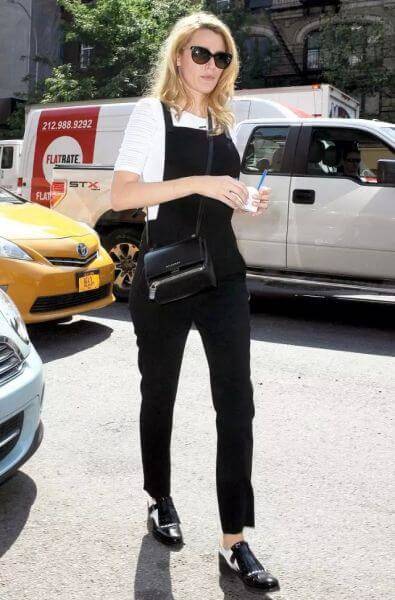 Don't try any doll skirts, straight skirts, and loose bibs that do not show the waistline. In particular, this type of sling belt A-type doll dress is definitely a minefield for big breasts.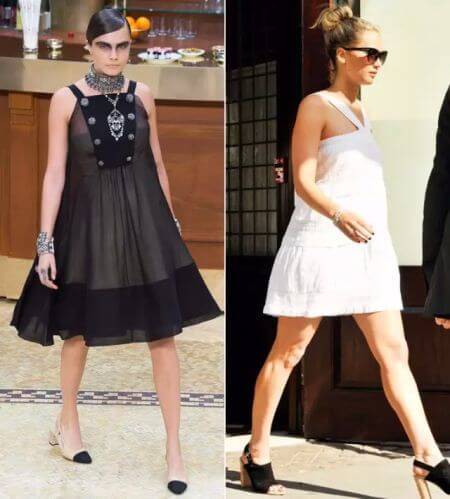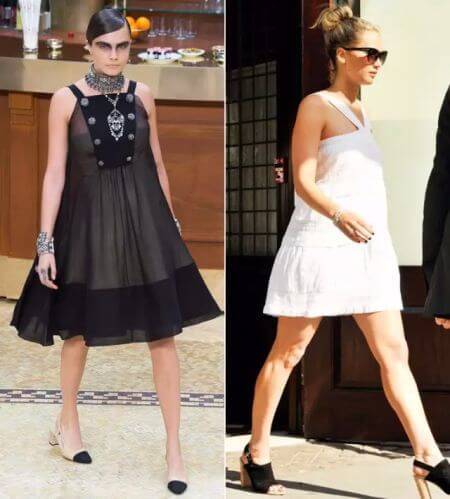 Although the waistline should be emphasized, the high waist style is not recommended for big breasts. The Russian celebrity Duma is very young. Sometimes she tries to raise the height of her skirts and trousers, but because of her big busts, she looks a bit thunderous on the chest. Even if she puts on a coat to divert attention, it does not help.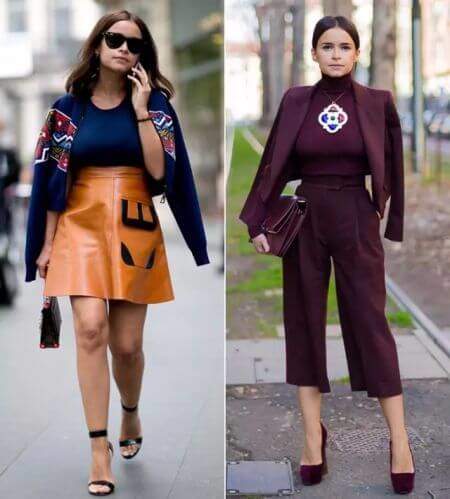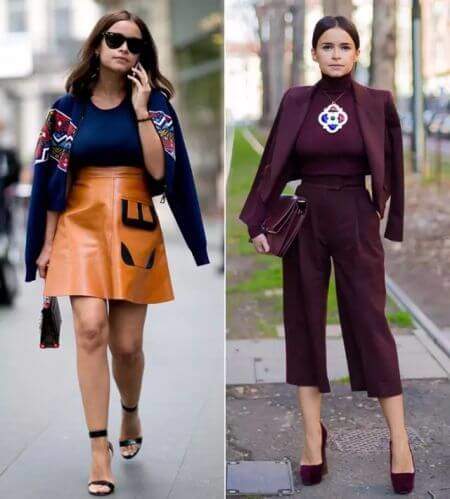 High waist doll dress is suitable for slim girls but on Kardashian, it looks unusually weird. See the heavy bosoms yourself.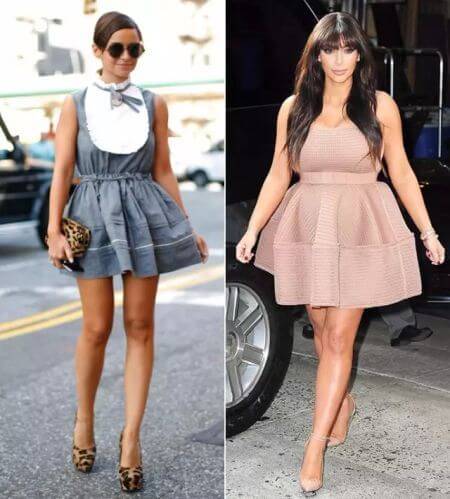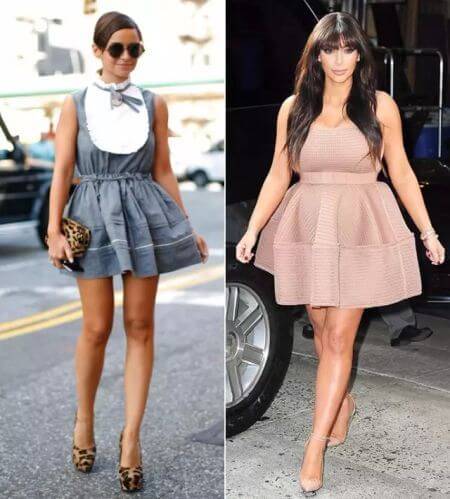 To do: V Collar Clothes
Not to do: High collar or small round neck
The choice of the neckline is very important for big breasts. Don't choose small round neck or high collar clothes. Such styles will divert the focus towards the busts. You should choose other styles such as a large round neck and a large V neck to reveal the neck and collar bone.
Blake Lively likes to wear a variety of deep V-neckline dresses on the red carpet. Beautiful necklines have become her greatest weapon.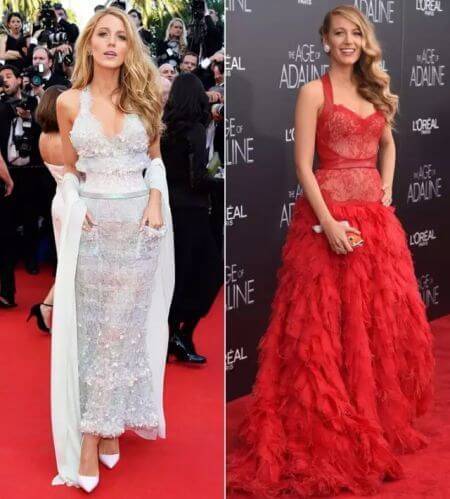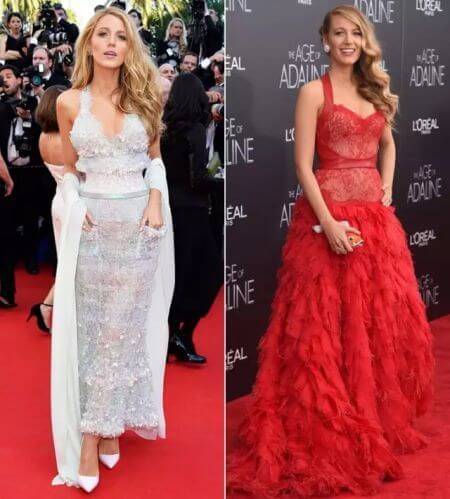 If you really do not want to show off your chest, you can choose this simple style of V-skirt. The graceful triangle formed by the V-neck and the simple hairstyle makes the upper body look thinner.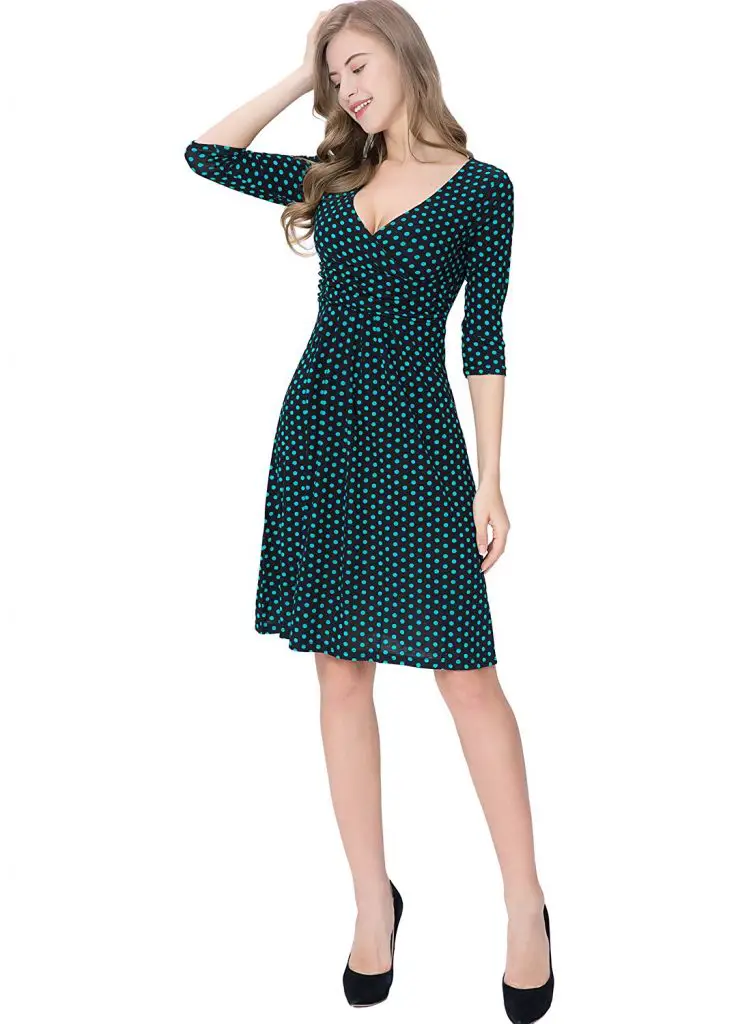 Being a big-chested lady, you can wear a button-down shirt. Do not forget to open at least two or three top buttons to get the illusion of V-neckline.
This move has also worked for Kim Kardashian.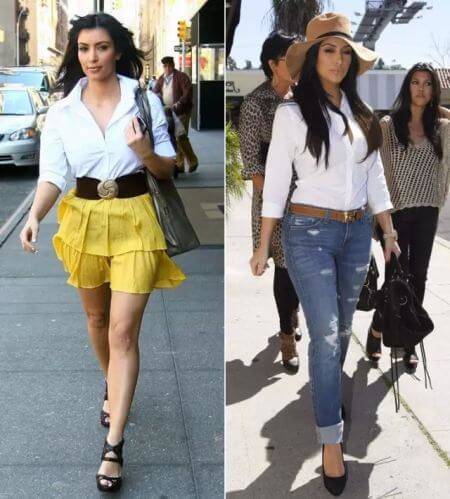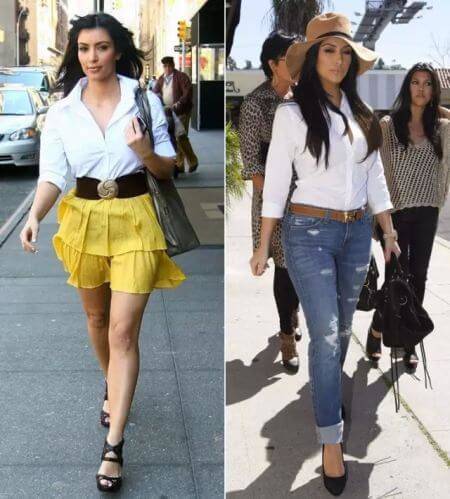 In addition to shirts, other button-down clothes should also be worn like this.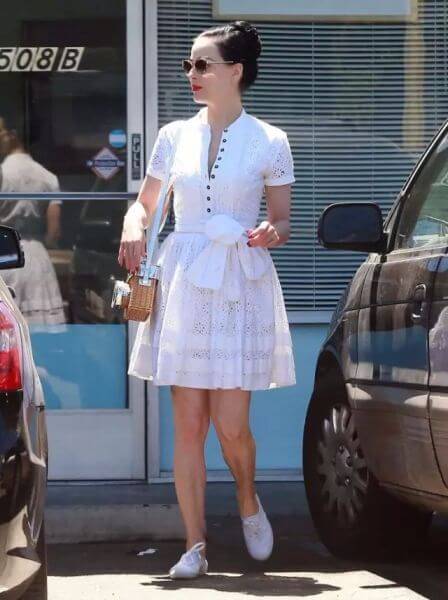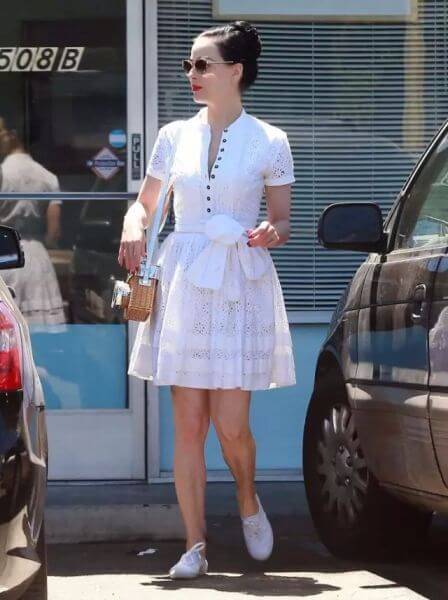 The common U-shaped collar and large round neck are also recommended for big breasts.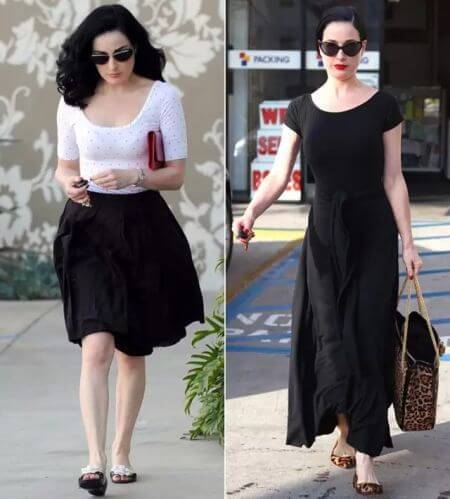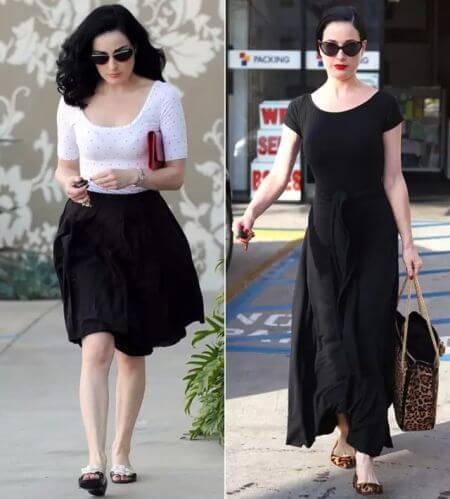 It is best not to wear any slogan T-shirt because no one can read it. The slogan tops would do nothing but diverting the focus on the bosoms.
When a large area of the upper body is exposed, try to keep the lower body as simple and elegant as possible (to keep the focus on the shoulders). These elegant off the shoulder tops with plain black skirt and pants look adorable. If the matching is not that simple, it could give your chest a heavy look. So, be very careful.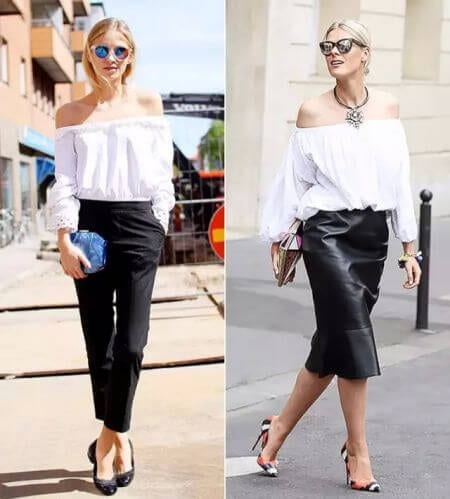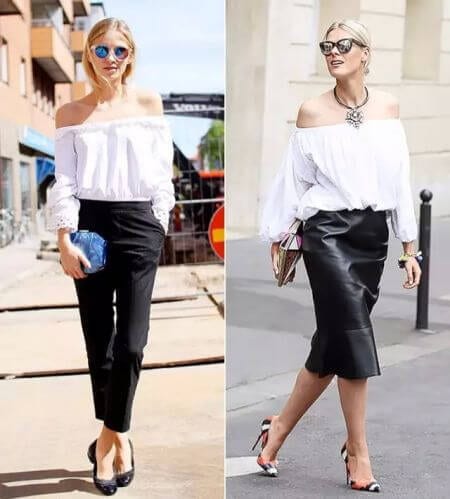 The little red dress worn by AA is beautiful.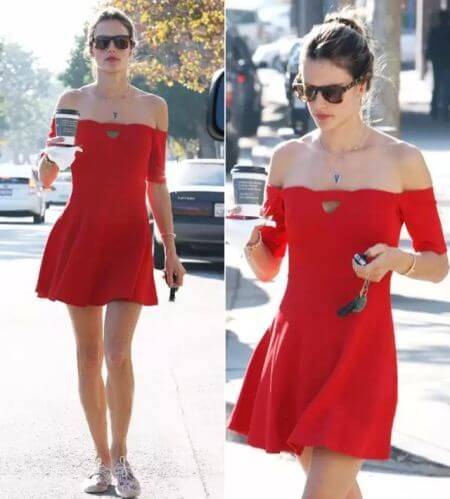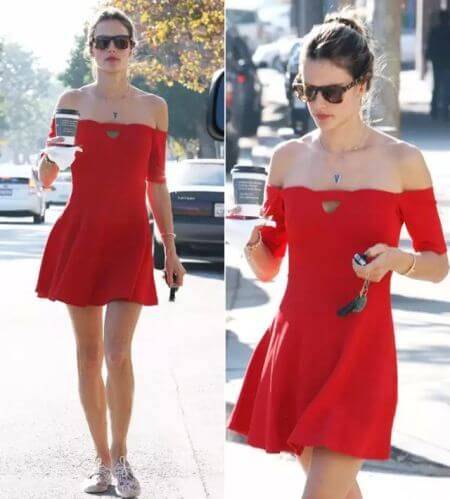 You can wear them on important occasions.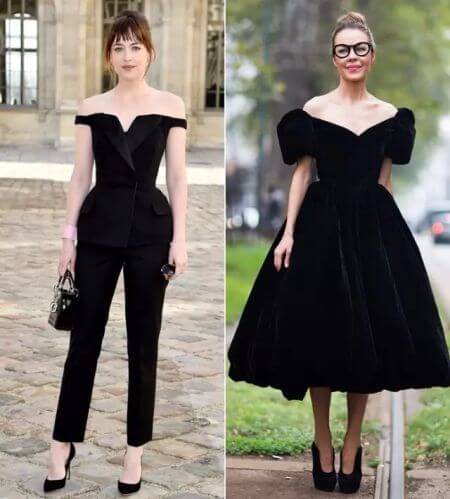 If there is such a thing as a high-collar dress in your closet, throw it away quickly. Or be ready to look like the lady below.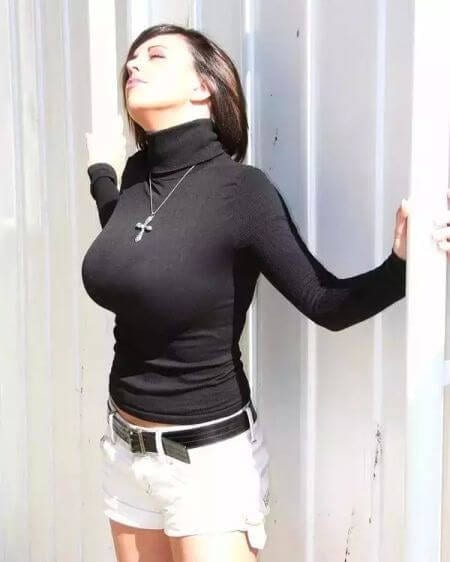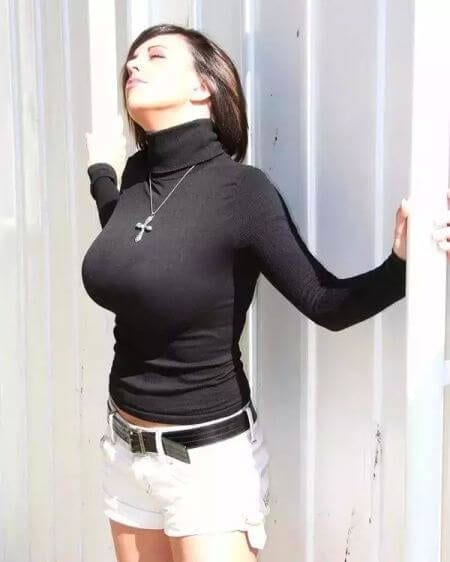 Blake Lively is wearing dark shades, even then I would not recommend outfits with small round neck + long sleeve. They don't help!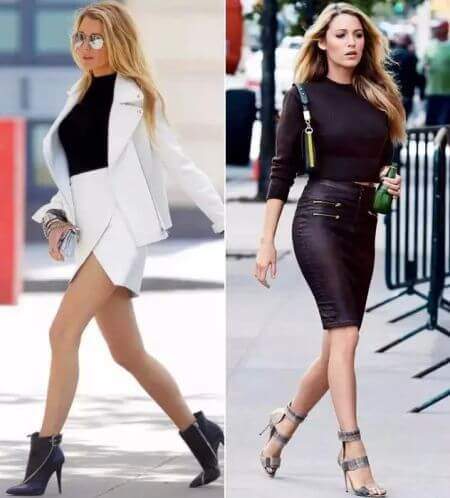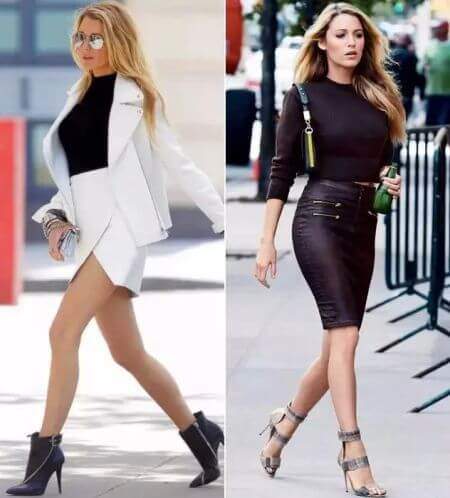 If you need to wear a round neck, choose a sleeveless or short-sleeved top. Don't worry about the flaps on the arm. As long as you are wearing fit clothes, people will hardly stare at your arms. So, don't be afraid of sleeveless clothes. Blake wears a sleeveless Barbie doll-like outfit which looks good on her.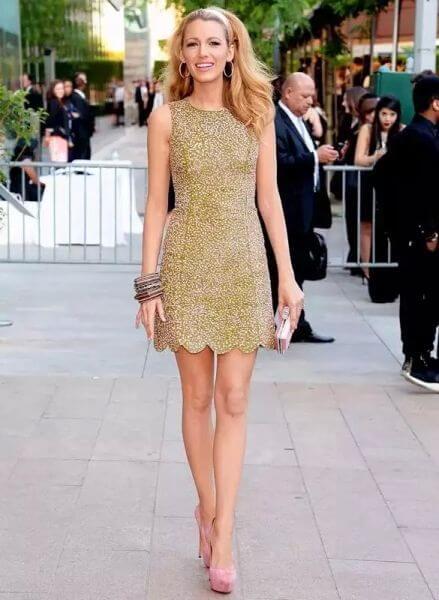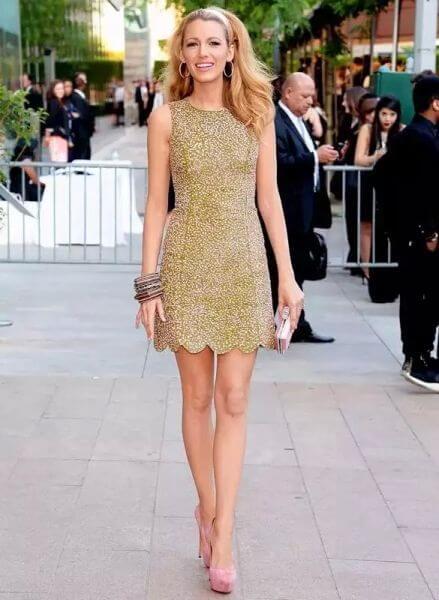 Yang Mi shocked everyone after wearing this Gucci outfit at last Milan Fashion Week. The design of the small round neck looks very stalwart on the chest, and there is a feeling that the chest is about to blow up immediately. Of course, this has a lot to do with the material of the clothes. This kind of reflective corset is also a restricted area for the ladies with big breasts.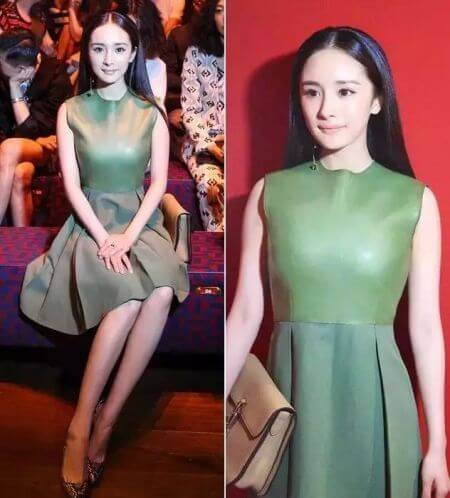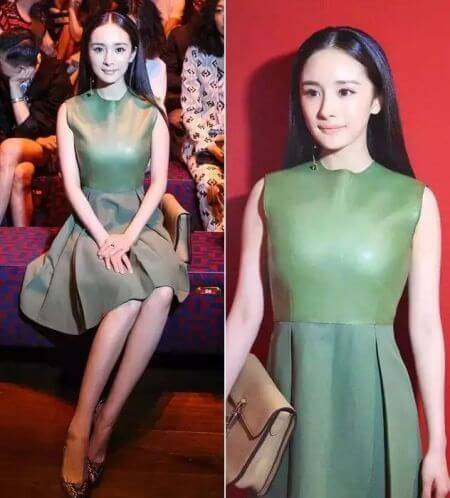 Check out how Blake Lively flaunted her figure in a Gucci outfit with a plunging neckline. The opened front has saved her from getting an abnormally tight look.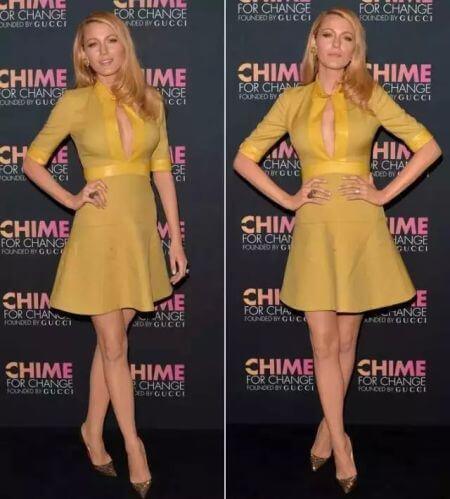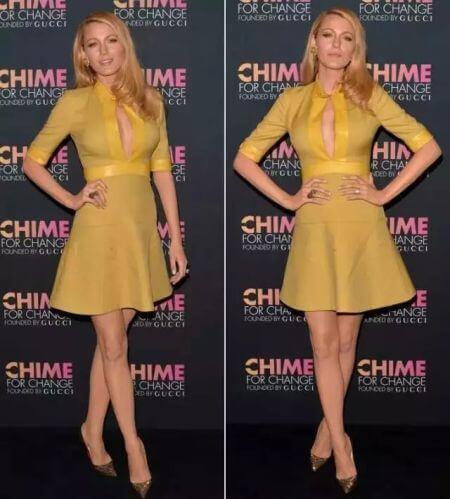 Although I always emphasize on exposing collar bone and arms for heavily-bosomed girls, it is worth noting that slings are not suitable for big breasts. They might give a flashy look.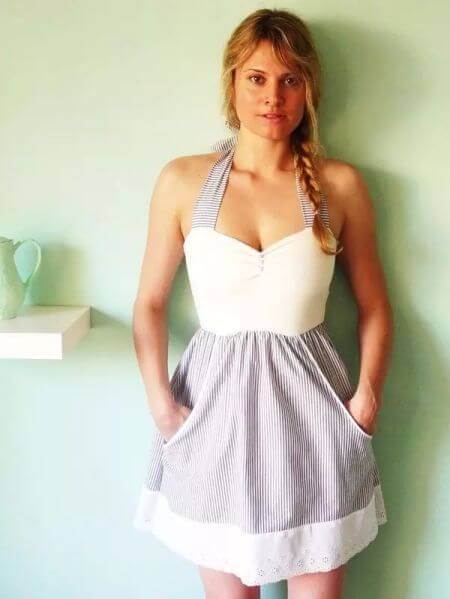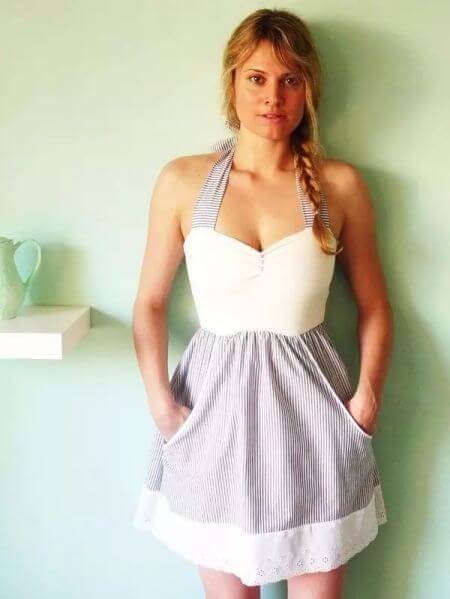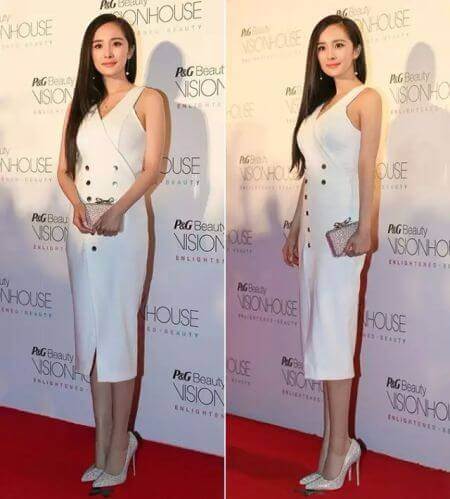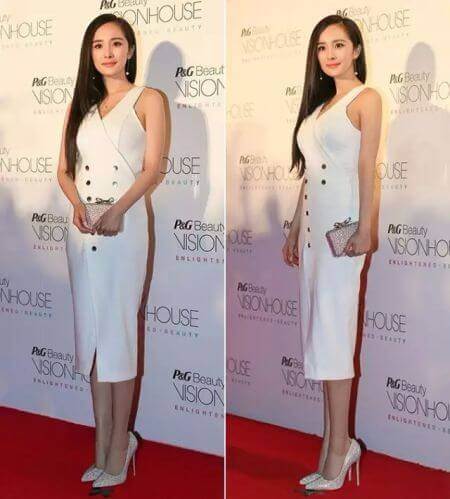 Blake Lively likes to wear a camisole chest. She often wears something over it as camouflage.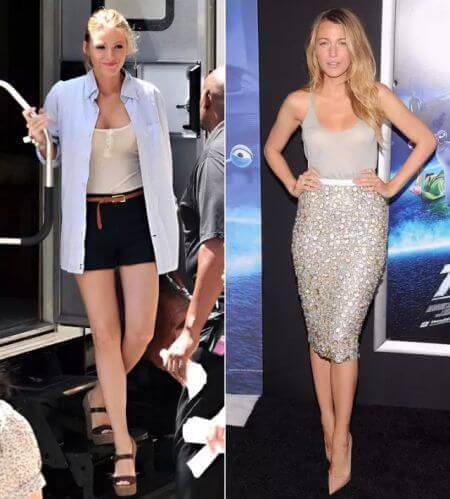 To do: small suits, small jackets, motorcycle jackets
Not to do: Intricately-Designed Coats
Small and well-structured jackets are really useful for hiding big breasts. But remember to choose a simple, slim-fit jacket. Too much modification will only be counterproductive.
Wearing a small jacket on the outside can play a good role in covering the heavy front. It is also recommended as office attire.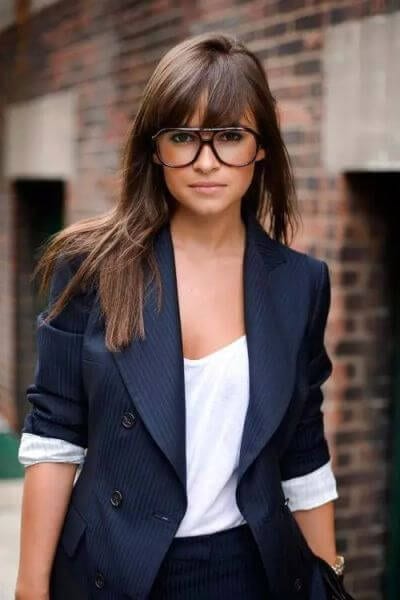 Wearing a denim jacket and a light-thin jacket in summer is preferable, like Kardashian.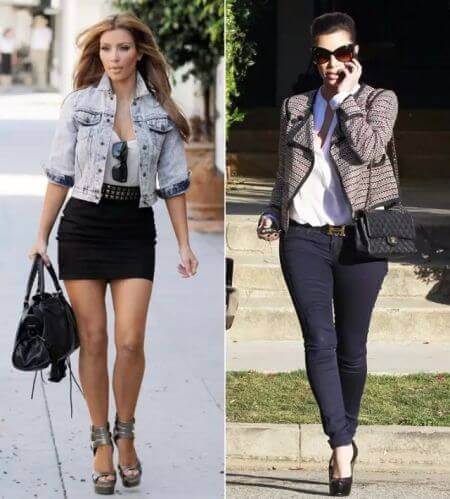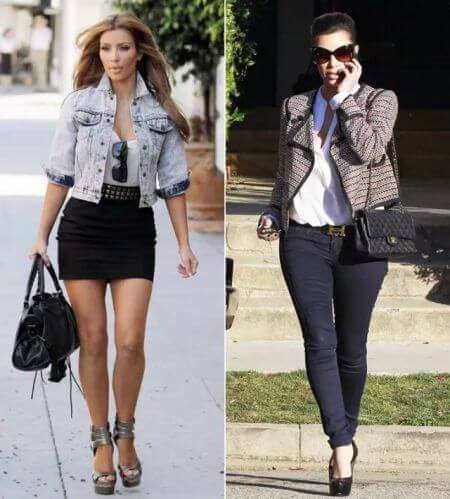 Kate Upton likes to wear it like this. The V-shaped black T inside the short jacket is paired with black leggings to show off long legs. High heels are enough to uplift the whole look.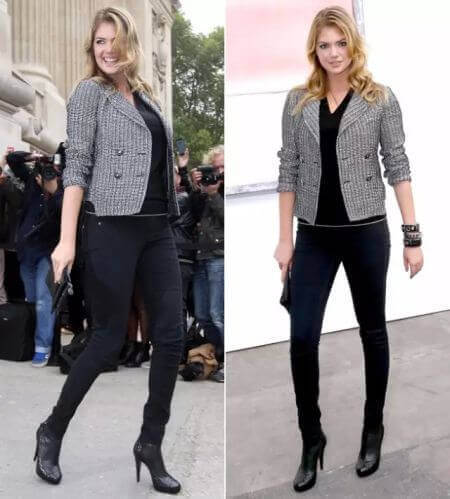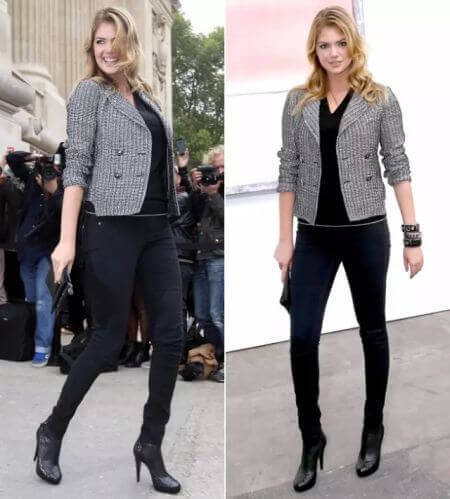 The remarkable chest effect of the motorcycle jacket is also very good.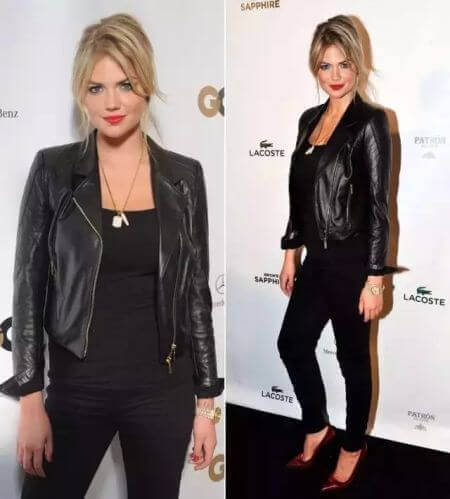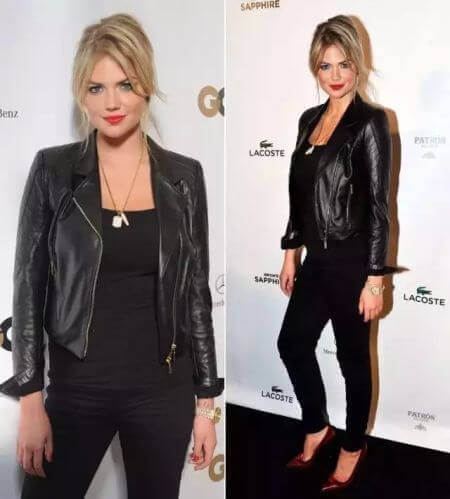 Wearing a complicated jacket like Blake Lively has the opposite effect.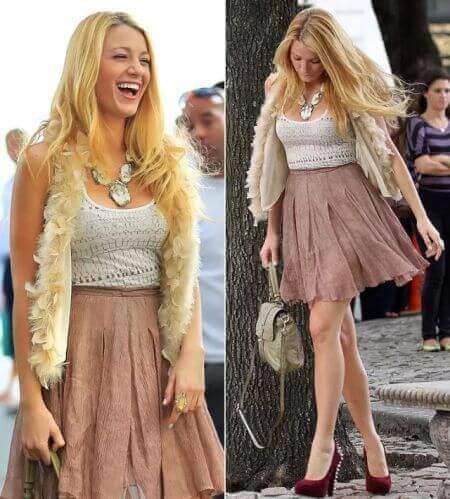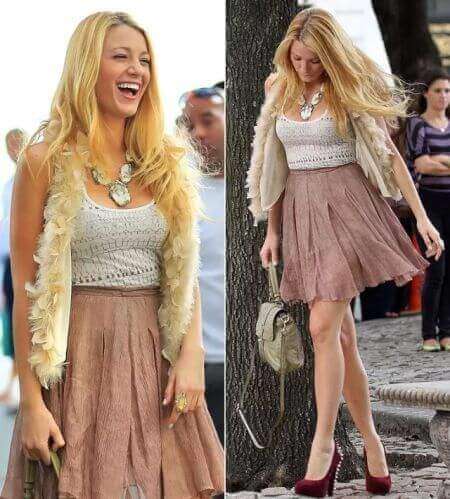 To do: Long necklace
Not to do: Ultra-short or super-clavicular chain
Wearing a necklace to stretch the visual line of the upper body is also a worth learning trick. A slender necklace is the best choice. Make sure that the length is not too short. Long neck pieces help in forming a straight look on the front.
Blake Lively has managed the same style in Gossip Girl.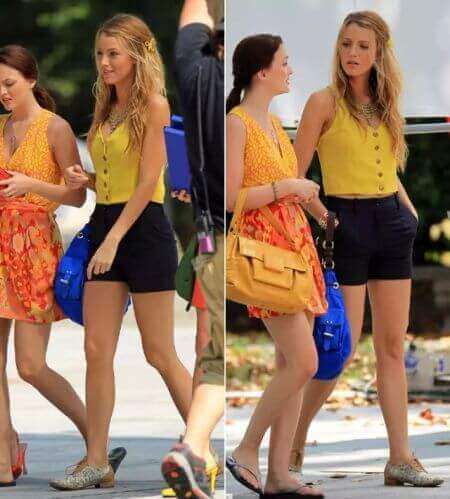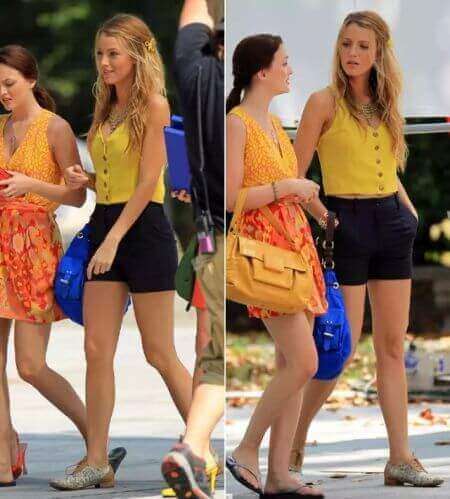 Duma is very good at using this little trick. You must see that her clavicle chain is not short.
Small accessories such as scarves and ties should also be used. They not only divert the focus, but they also block large breasts.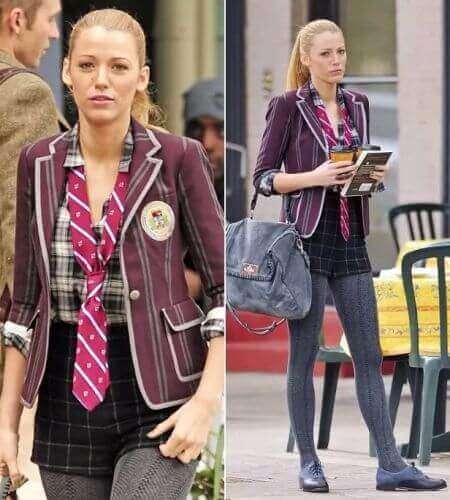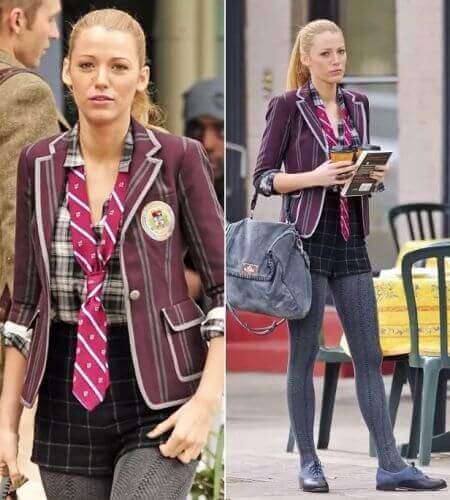 But it does not mean that you cannot wear all the chest designs such as lotus leaf, lace detailing and pleats. Just make sure that it is not high-necked. The high-necked, high-waisted skirt that Yang Mi wore early this year, made her upper body more bloated.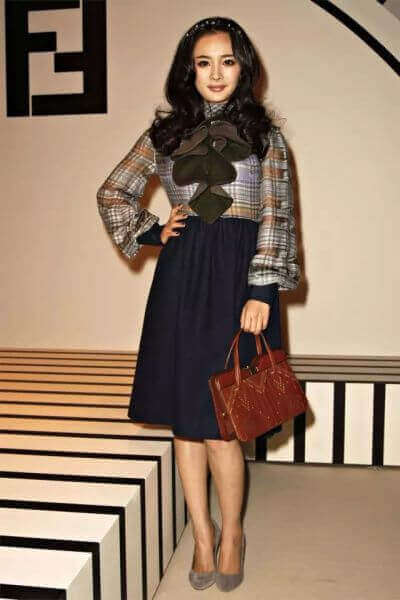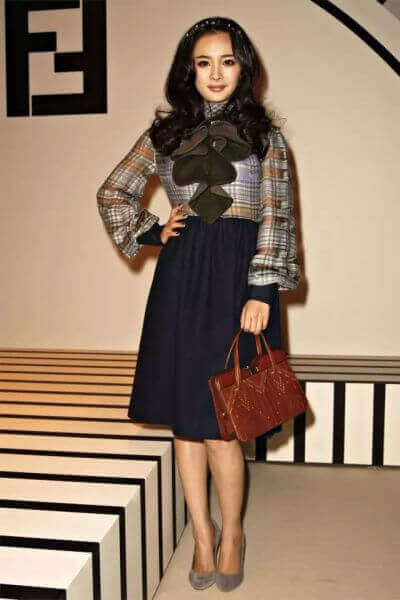 To do: Wear a crisp material, A well-textured material
Not to do: soft cotton, hemp, chiffon, mohair, sweater, etc.
For the big-breasted ladies, it is necessary to carry a style. Fabric is equally important. Why do small jackets suit you, because the fabric is stiff and neutralizes the "heavy area." However, baseball shirts, sweaters, and cotton T-shirts dress are relatively unsuitable because of the soft and body-hugging material.
Duma is a good example of this point: she is wearing similar-looking blue suits, just because the shirts are made in two different fabrics, looks are obviously not the same.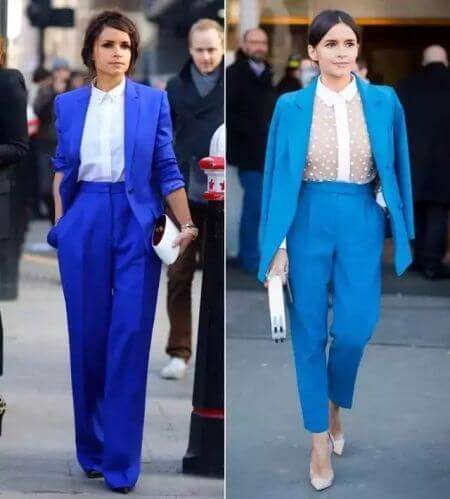 Kate Upton got a lot of praise from international media. The sturdy shirt with a few buttons opened in front looks suitable.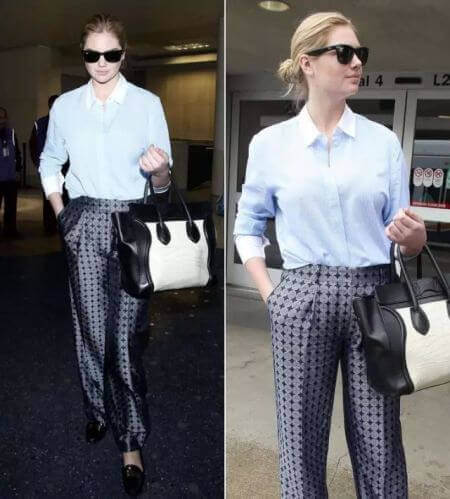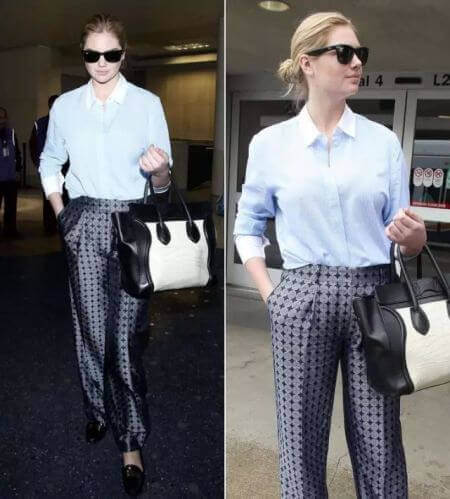 Mohair wool fabrics can easily give a bloated look, so I do not recommend them for big breasts. Dakota Johnson's look in the image below looks tolerable because of the V-shaped opening. It really saved her from getting an overly bloated look.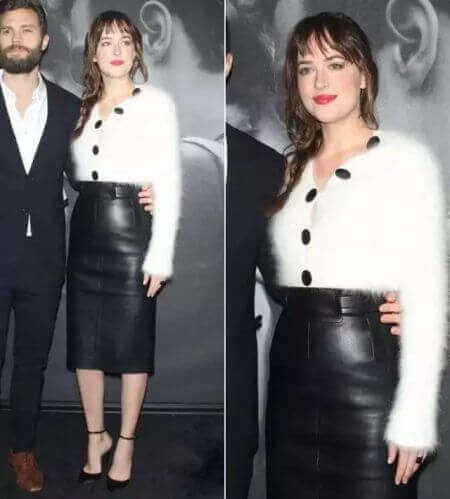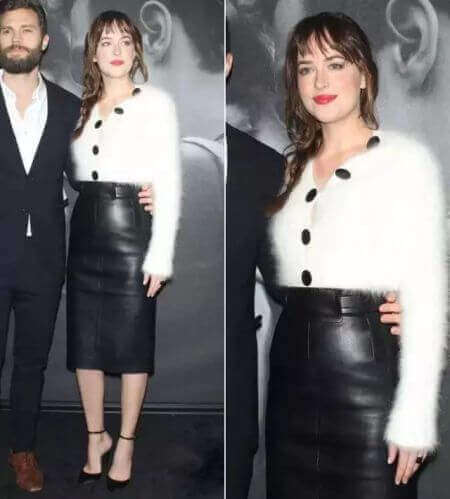 Chiffon shirt is also forbidden for the ladies with big breasts—especially the more transparent chiffon. Please avoid using it. Even Blake wore it about 10 years back.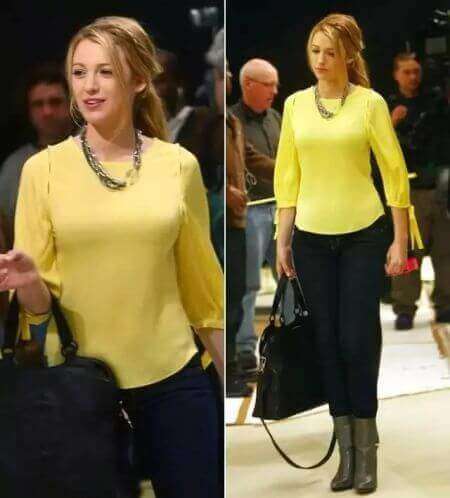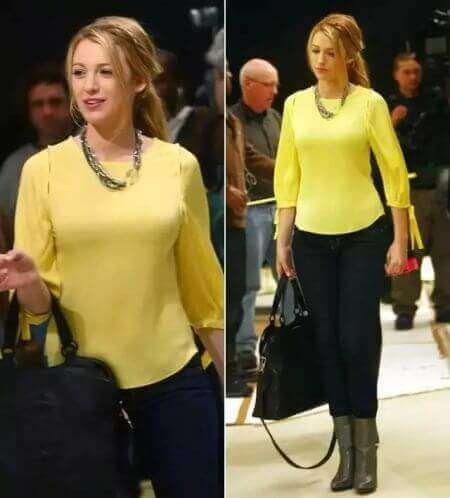 To do: sexy, simple or retro style
Not to do: Mori girl, BF Style
Try some simple, sexy and retro style. Irrespective of your size, it would give a balanced and winning look on the whole.
Check out the style of Italian sexy actress Monica Bellucci.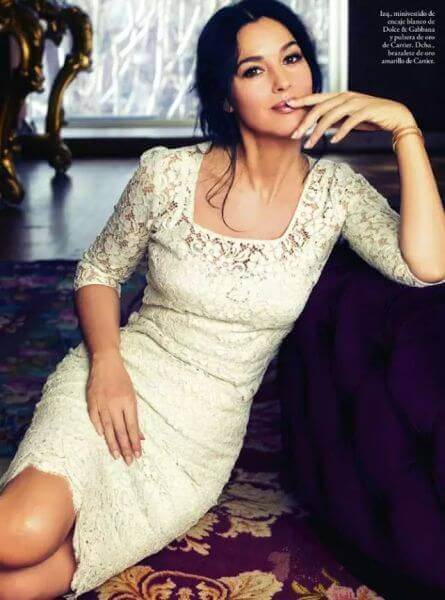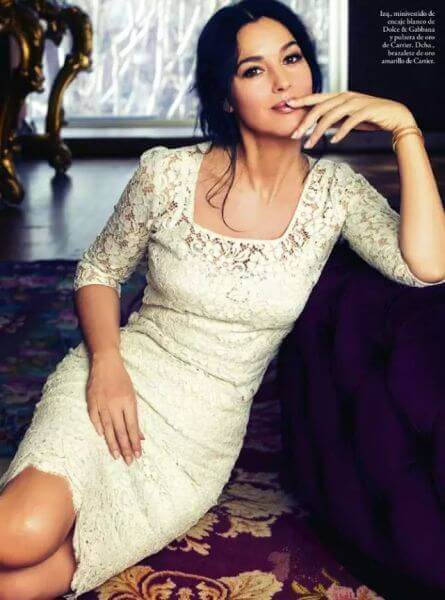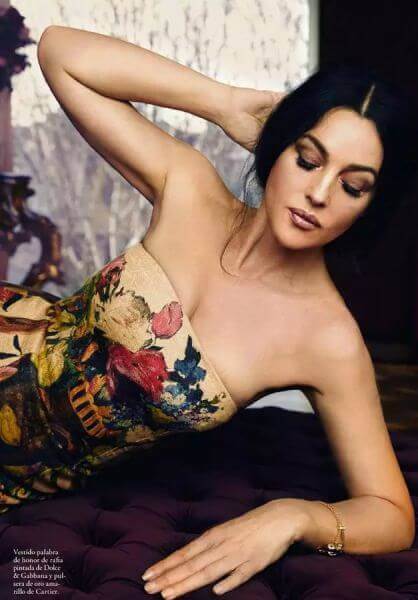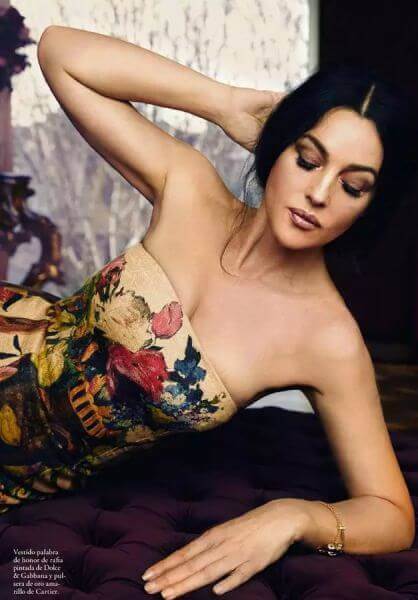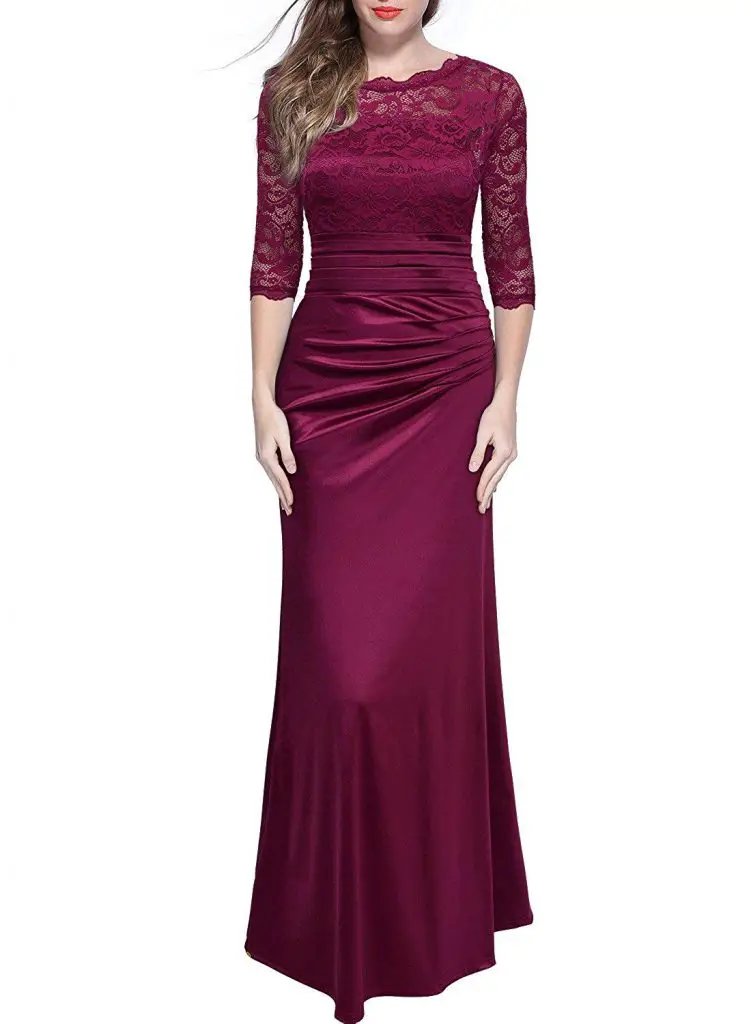 The best representative of sexy retro style is, of course, the dancer Dita Von Teese. Every time she goes out in a delicate dress, it is worth learning experience for all women.
This could be an occasional style—and not the one to try too often.
The big breasted woman who understands her figure rarely wears boyfriend style clothes. Boyfriend style clothes are not recommended for girls with big breasts.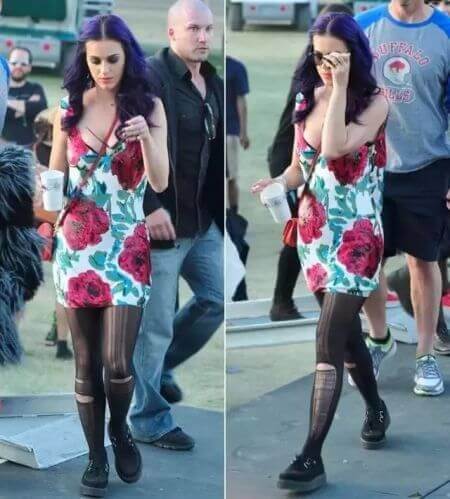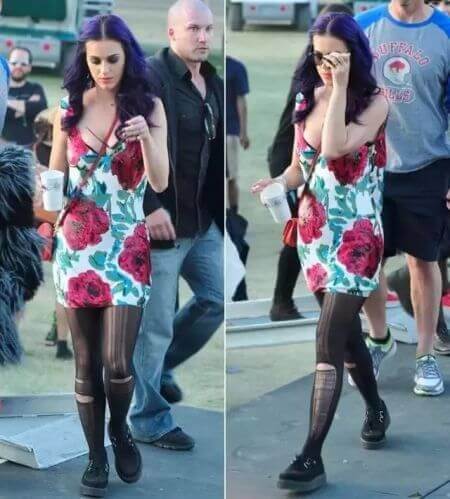 The following two tried this style and failed. However, the trousers they choose are too wonderful.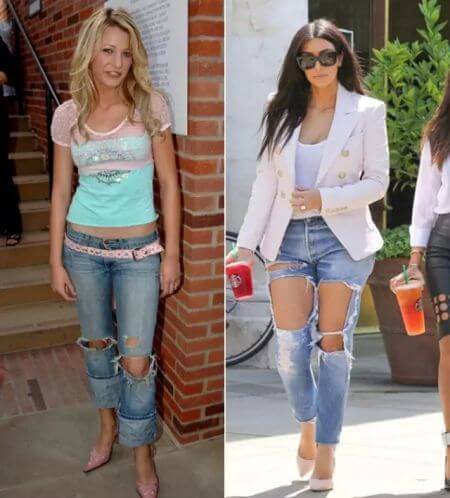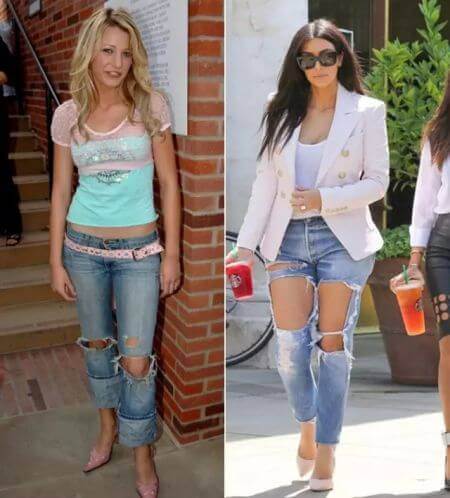 Not just jacket but the right innerwear too makes a positive difference on heavy bosoms. I will discuss inner wear next time. If you too have big breasts and you know some styling hacks for it, do share with us.